HR Committee
IFCCI launched the Human Resource (HR) Committee on 4th May 2018 with a group of HR Directors and HR professionals from multinational companies. The committee meets every quarter to exchange best practices and discuss HR trends and issues in the India. HR committee provides a platform through which French and Indian companies can manage the talent areas such as HR strategy, organizational culture, employee engagement, and familiarise themselves with French Language & laws and much more.
Highlights
1. 30+ new HR heads joined in 2018
2. Webinars:
Prevention of Sexual Harassment at the workplace
Survey & discussion on employee wellness & wellbeing (compiled by top HR Heads)
3. Round Tables:
GDPR from an HR perspective
Employee Termination: Statutory & Strategic perspective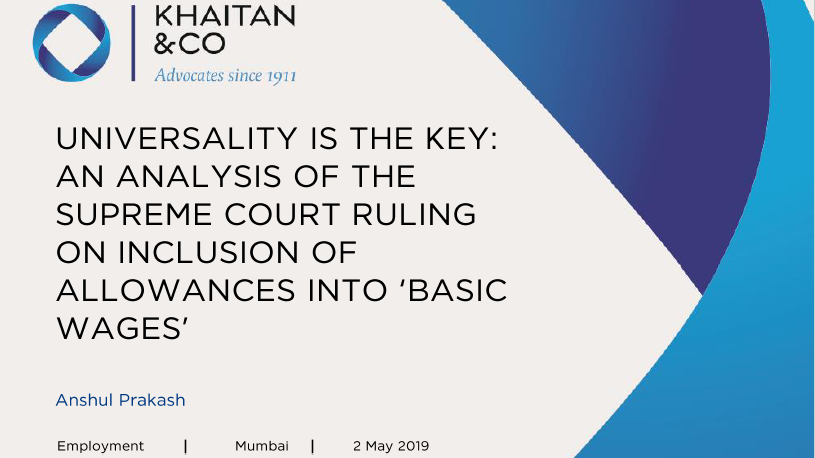 WEBINAR ON 'UNIVERSALITY IS THE KEY'
On May 2 2019, IFCCI HR Committee organized a webinar on 'Universality is the key: An Analysis of Supreme court ruling on inclusion of allowances into 'basic wage' which was presented by Mr. Anshul Prakash, Partner at Khaitan & Co. Many HR heads attended the session and thanked Mr. Anshul Prakash for an informative session.
DIVERSITY & INCLUSION AT THE WORKPLACE
IFCCI HR Committee organized a roundtable discussion on "DIVERSITY & INCLUSION AT THE WORKPLACE" on Friday, 8 February at Moet Hennessy India Pvt. Ltd, Mumbai. Mr. Prabir Jha, President & Global Chief People Officer, CIPLA was the speaker and he chaired the session which was attended by 20 HR professionals from leading French and Indian Companies.
For more information, click here.