Membership
Be a part of one of the most active bilateral chambers of commerce in India!
Established in 1977, the Indo-French Chamber of Commerce and Industry belongs to a worldwide network of 126 French Chamber's (CCIFI) in 95 countries with over 37,000 companies
Some of the highlights of the past year include:
Strengthened 16 Sector and Functional Committees – with more than 70+ activities led by CXOs of French and Indian companies leading to enhanced knowledge-sharing and business building
Increased advocacy initiatives: IFCCI organized several virtual meetings/roundtables with Government of India and state Government officials (DPIIT, Invest India, MIDC, Governments of Maharashtra, Delhi, Goa, Tamil Nadu & Karnataka etc.) adding significant value to French groups and their development in the Indian market
Highly Visible and Impactful Virtual / Physical Events: The Chamber organized 100+ virtual / physical events which led to massive virtual networking and included highly successful flagship events like Annual General Meeting, Indo-French Business Awards, Indo-French Business Conclave, H R Conclave, CSR Conclave & Awards 2021, CEO's interaction with French Foreign Minister Mr. Franck Riester etc.
Business Support Services team supported both French and Indian companies for their expansion, and incubated several French companies in its four business centers in India
Employment Service: Several Indian and French candidates were successfully placed in the year of the pandemic.
Newly launched Business Promotion services became a solid platform for marketing and promotions of businesses digitally across India and France
French Solidarity Mission – Covid 19: The French Team in India (Embassy of France, IFCCI, Business France, and CCEF) have worked on a French Solidarity Mission to raise funds from French companies in order to purchase, install and maintain French oxygen plants in Indian hospitals.
Growing membership with more than 650+ member companies across industries in India and France
MEMBERSHIP BROCHURE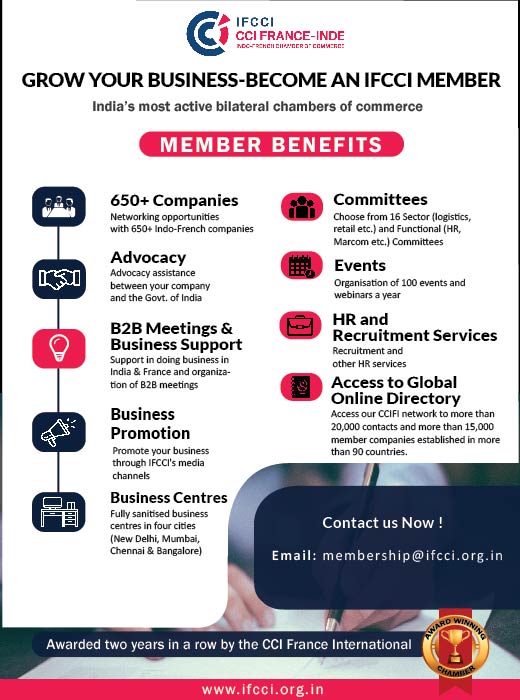 Membership Benefits
Access to 100+ business networking events of various formats Pan-India (conferences, seminars, wine tastings, networking evenings, committees, advocacy roundtables etc.)
IFCCI Annual Membership Directory (Key contact listings of all 650+ IFCCI members and brief on activities)
Access to leading publications (Annual Report, Monthly E-Newsletter)
Business leads/B2B meetings round the year (on request, paid service)
Visa letter assistance for employees travelling to France
Assistance in organizing industry specific business trips to France
HR assistance for your hiring needs
Wide range of business support services
Offers for Members
Every year, the Indo-French Chamber of Commerce and Industry curates some offers in collaboration with lifestyle brands specially for our members which entitles them to avail these offers all throughout the financial year (hotels, restaurants, spas, etc) Pan India.
For queries related to the card,
kindly write to communication-delhi((@))ifcci.org.in