Event report
Webinar on Cyber Security: Risks, Challenges and Solutions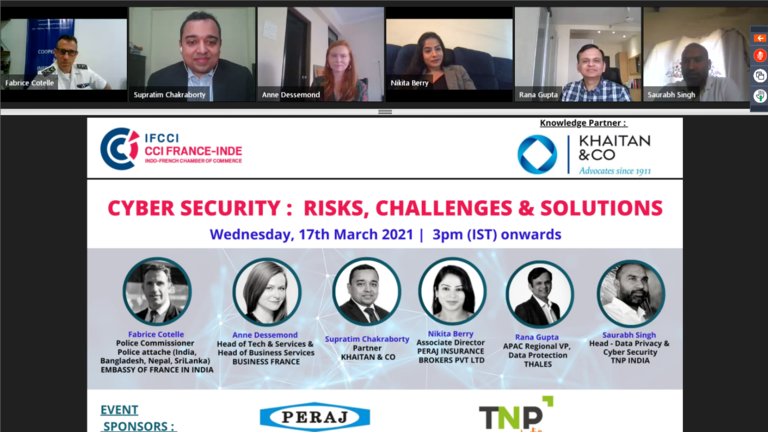 IFCCI organized a webinar on 'Cyber Security: Risks, Challenges and Solutions' in association with Khaitan &Co on 17th March 2021
Download a copy of this event coverage
Ms. Payal S. Kanwar, Director General, IFCCI opened the session and welcomed all the distinguished panelists and participants and highlighted the importance of Cyber Security in this digital era.
We were honored to have with us Mr. Fabrice Cotelle, Police Commissioner, French Embassy in India. who Heads the Central Forensics Headquarters and oversees information and analysis, legal issues, communication, IT and site security departments.
Mr. Cotelle stated that every user should increase security and act against cybercrime. The mantra to management is to inform and to be informed of the malwares.
We then began with the Panel Discussion on "Risks, Challenges and Solutions"
We had on board Ms. Anne Dessemond, Head of Tech & Services & Head of Business Services, Business France who moderated the session with the Cyber Space experts from the Indo-French Network.
Ms. Nikita Berry, Associate Director, Peraj Insurance Brokers Pvt Ltd who threw light on "Cyber Insurance" stating it to be the high alarming time for cyber security. While explaining the fact that crime has taken a digital shape.
Mr. Supratim Chakraborty, Partner, Khaitan & Co. mentioned about the widespread network and disparity being the largest difficulty in cyber security. As organizations virtually bond over team meetings over Audio and Video calls, one must reconfirm the authencity of the applications put in use.
Mr. Rana Gupta, APAC Regional VP, Data Protection, THALES shared his views on Cloud protection & security, access management, data discovery to digital transformation. It encourages business logic and team communication by ensuring data privacy and reasonable security practices.
Mr. Saurabh Singh, Head - Data Privacy & Cyber Security, TNP India highlighted the fact that Cybercrime is a global issue and need to be treated with expertise as it involves data and its governance. We need to be informed and educated to tackle this and approach technical solutions.
We learn that the focus of the corporate operations is changing its landscapes to digital options and hence cyber protection plays a vital role in effective management.
This informative session was then followed by an interactive Q&A round.
Concluding remarks were shared by Mr. Bruno Bronquard, Regional Director, IFCCI as he thanked all the speakers and sponsors for their kind help and support. It was very well received by all.