Trade Facilities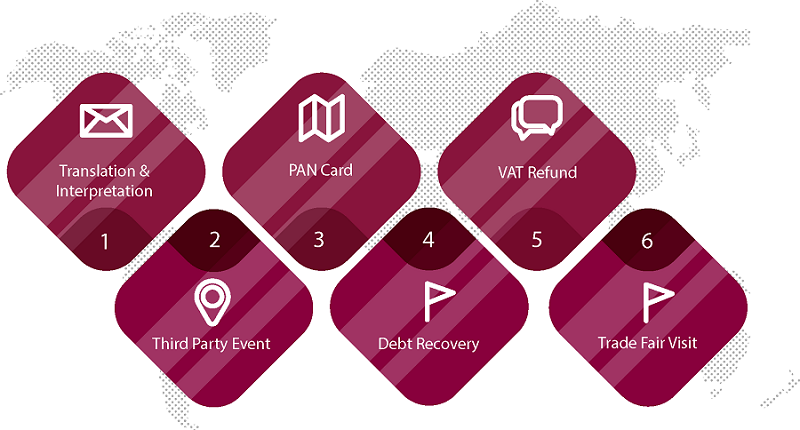 1. Translation and Interpretation
Meet all your translation and interpretation needs with IFCCI at competitive prices. Along with bi-lingual service in both English and French, we also assist in translating documents from almost all the regional Indian languages to French.
2. Third Party Event
Promote your company and network with the right people, in form of a private corporate event organized by IFCCI such as networking dinners, cocktails, seminars, conferences, etc.
3. PAN Card
It is mandatory to have a PAN Card (Permanent Account Number) for both a Non-Resident Indian (NRI) and a Non-Resident organization (in case they receive income and need to file income tax return in India).
At IFCCI, get assistance to obtain PAN card for a successful business set-up in India.
4. Debt Recovery
Need assistance to recover your dues? Thanks to IFCCI's vast network and strong position, we help you recover your dues in a hassle-free manner while maintaining a strong and amicable with the debtor.
5. VAT Refund
Reimburse the VAT (Value-added tax) paid by you during your business-related stay in France with IFCCI's assistance. For further information, please contact: Mr. Arun Kumar Rai (+91 22 6845 9808 / +91 9322504495 / arun.kumar.rai(@)ifcci.org.in)
6. Trade Fair Visit
Introduce your product or service, meet potential partners and understand the competition, at exhibitions and trade fairs visits organized by IFCCI. From helping companies to book a stand to organizing their visit, we do it all. Alternatively, IFCCI can represent you at an exhibition to generate leads, build contacts and develop your business.

Contact us
Our Business Services team
Email