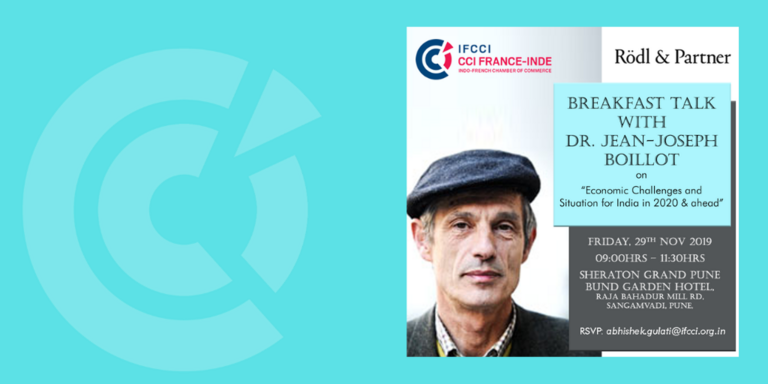 Indo-French Chamber of Commerce and Industry (IFCCI) and Roedl & Partner Consulting Pvt. Ltd
are glad to welcome you for a significant launch event in Pune.
An Exclusive Interaction over Breakfast with
Dr. Jean-Joseph Boillot [renowned French Economist]
on
"Economic Challenges and Situation for India In 2020 and ahead"
---
Friday, 29 November 2019
9:00 am to 11:30 am
Hotel Sheraton Grand Pune, Bund Garden
---
The interactive session aims to provide a better insight into the Indian Economy and address the business concerns along with giving support. It also focuses on various aspects of Indirect taxes and proposed Goods and Services Tax (GST) having an impact on business and providing litigation/ assessment for businesses/ Investment opportunities and trading in India.
Topics to be covered:
Economic challenges for India in 2020
The role of frugal innovations and domestic demand in India
Indo-French Bilateral relations
Impact of indirect taxes and GST on businesses
Kindly Note:
NO REGISTRATION FEE - It is a free event and limited seats are available on first come first serve basis. Therefore we urge you to confirm the same at the earliest by clicking the button below.
We look forward to seeing you at the event.
---
RSVP: Please contact us at abhishek.gulati(@)ifcci.org.in