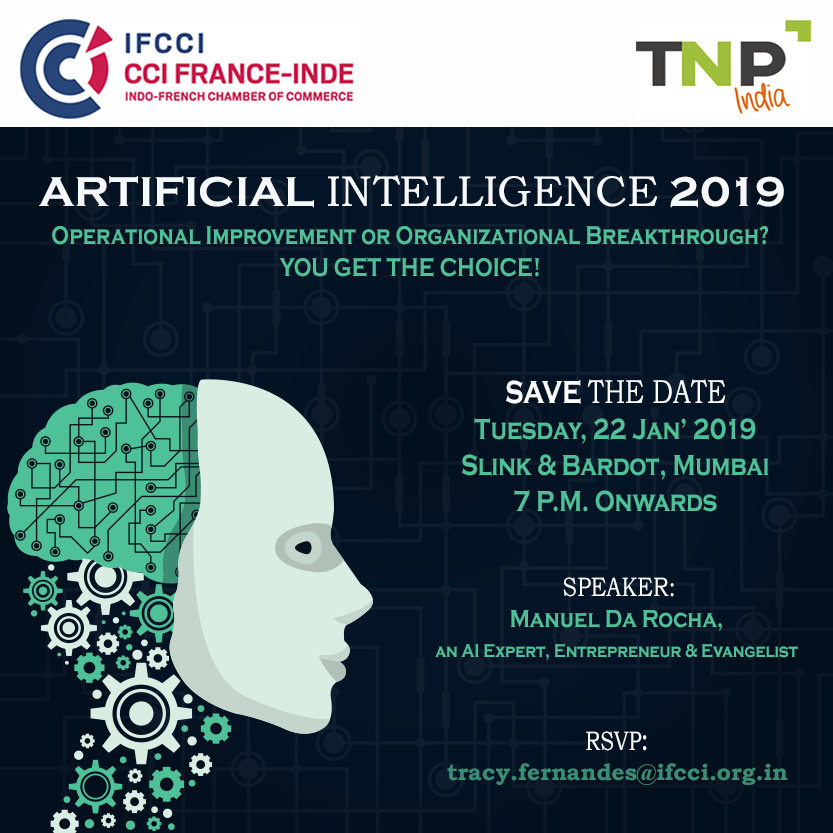 The Indo-French chamber of Commerce and Industry in association with TNP Consultancy is organizing a workshop on "Artificial Intelligence – Operational Improvement or Organizational breakthrough? You get the choice!" in Mumbai on Tuesday, 22nd January 2019.
Artificial intelligence (AI) is the ability of a digital computer or computer-controlled robot to perform tasks commonly associated with intelligent beings. Computer science defines AI research as the study of "intelligent agents": any system that perceives its environment and takes actions that maximizes its chance of successfully achieving its goals. In this modern era, AI will help in realizing the potential not only for individuals but for communities and enterprises. The day AI technologies will merge reasoning capabilities with learning ones, then, the essence of work in itself will be transformed!
The speaker of the workshop is Manuel Da Rocha an AI Expert, Entrepreneur and Evangelist.
The conference will include of:
Where do the AI technologies actually stand?
Operational use cases
Organizational (& strategic) stakes
Details of the event:
Date: Tuesday, 22nd January 2019
Time: 19:00 Hrs (Registration) | 19:30 Hrs (Workshop followed by Networking)
RSVP: tracy.fernandes@ifcci.org.in ; communication-mumbai@ifcci.org.in

Name:
Designation:
Company Name:
Contact Number: