Webinar • Event report • Events • Committee • Conference & Seminar
Webinar on Decoding the Union Budget 2022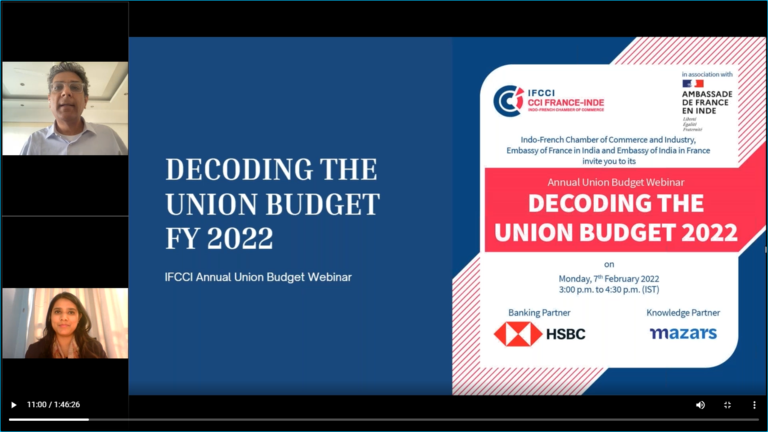 Indo-French Chamber of Commerce & Industry (IFCCI) organised its Annual IFCCI Union Budget Webinar with the support of Embassy of France in India
Indo-French Chamber of Commerce & Industry (IFCCI) organised its Annual IFCCI Union Budget Webinar with the support of Embassy of France in India and Embassy of India in France on 7th February 2022.
Session was commenced by Mr. Sumeet Anand, President, IFCCI who welcomed all participants and speakers for the day, followed by Introductory Remarks by Mr. Sugata Sircar, Chairman, IFCCI CFO Committee & VP - Strategic Projects, Schneider Electric India who set the context for the discussion.
Mr. David KARMOUNI, Regional Financial Counsellor, Deputy to the Head of Regional Economic Services, Embassy of France, India (tag) and Mr. Tusharanshu Sharma, First Secretary & Head of Economic and Commercial Wing (Bilateral Issues), Embassy of India, Paris (tag) addressed the participants and highlighted their views on this year's Union Budget.
At the Panel Discussion on Decoding the Budget, Mr. Gaurav Jain, Executive Director - Corporate Tax, Mazars was in discussion with Mr. Sujit Sircar, CFO India and Head Global Shared Service, Capgemini and Mr. Tushar Pradhan, CIO, HSBC Global Asset Management Pvt Ltd. wherein they discussed key aspects of the Budget and their implications - digital currencies, policy changes, clouding of investments, NFTs and many more.
The Session was moderated by Ms. Aarushi Gautam, Assistant Manager - Events & Membership (North) and attended by over 55 participants. Thank you Banking Partner HSBC and Knowledge Partner Mazars