Webinar • COVID-19 • Event report • Webinar Industrie
Webinar : Business Opportunities for India and France in Engineering Sector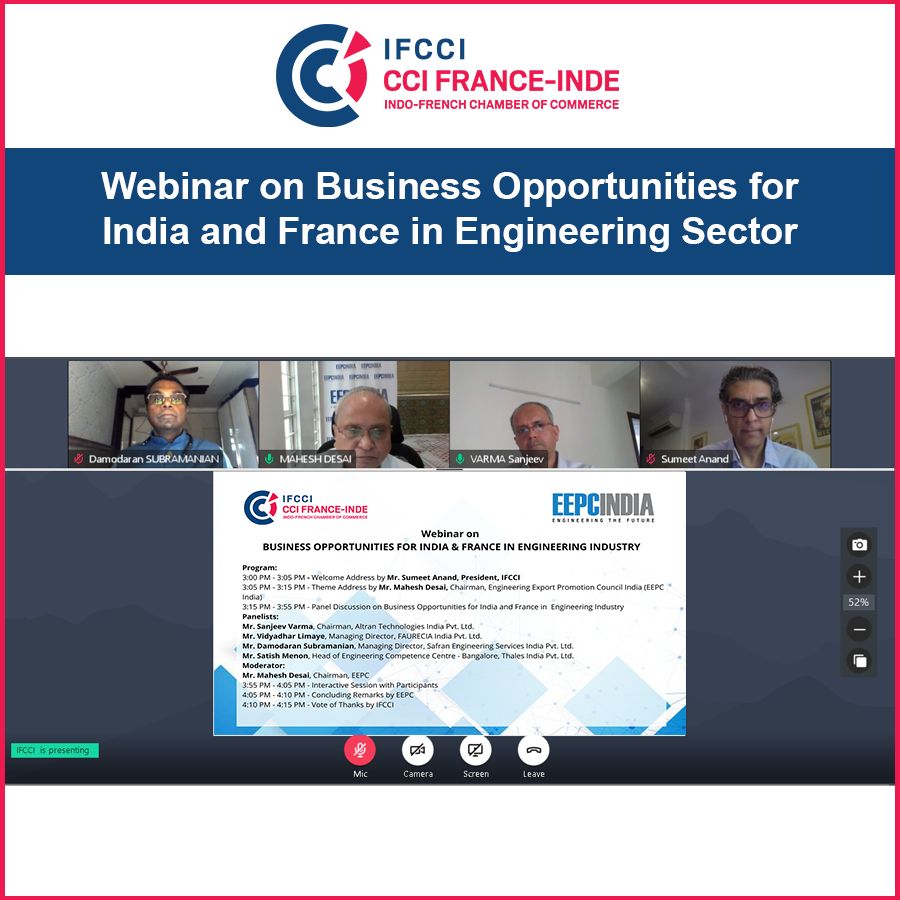 IFCCI, in association with EEPC India, organized a Webinar on Business Opportunities for India and France in Engineering Sector
IFCCI, in association with EEPC India, organized a Webinar on Business Opportunities for India and France in Engineering Sector on Wednesday, 12th August 2020.
Mr. Sumeet Anand, President, IFCCI, welcomed speakers and participants while highlighting the strong Indo-French strategic relationship. He shared that France has emerged as a major source of FDI for India with more than 1,000 French establishments already present in India and France is considered as an engineering powerhouse in Europe, with a deep pool of engineering talent and abundance of engineering schools. He encouraged the Indian MSME sector to look out for opportunities to collaborate with French companies.
Mr. Mahesh Desai, Chairman, EEPC India, delivered the theme address wherein he underscored the historical relationship between India and France, the trends of trade and investment between the two countries and pushed for maximizing bilateral trade.
Mr. Desai moderated the Panel Discussion that highlighted in detail the existing scenario of the engineering sector in different sub segments automobile, manufacturing, defence & aerospace, software, tooling, telecom, etc. alongwith opportunities and challenges in the sector covering areas like engineering services, R&D, infrastructure, quality, digitization and Make in India initiative.
Mr. Sanjeev Varma, Chairman, Altran Technologies India Pvt. Ltd. talked about the relevance of engineering R&D services, especially in the growing automobile sector and the software industry and highlighted the importance of bringing the necessary ecosystem from France to India. Moving on he stated the importance of the defence & aerospace sector, engineering hardware sector, the semiconductor industry and the telecom industry for promoting bilateral trade.
Mr. Vidyadhar Limaye, Managing Director, Faurecia India Pvt. Ltd. encouraged the participants to maintain high quality products to meet international standards and called for government intervention to promote tool exports from India and help in the overall development of the Indian MSME sector.
Mr. Damodaran Subramanian, Managing Director, Safran Engineering Services India Pvt. Ltd. appreciated the Indian educational institutions promoting engineering education and the progress in the Indian defence sector with the help of French companies and Make in India initiative. He emphasised on the need for digitization in this Industry. He also stated the needs of the industry and identified the challenges and immense opportunities available for Indian and French companies.
Mr. Satish Menon, Head of Engineering Competence Centre - Bangalore, Thales India Pvt. Ltd. appreciated the Indo-French relations while applauding India's competency in the engineering sector. He pushed for improving the quality of Indian products, encouraged manufacturers and innovators to focus on research and development and to evolve the existing manufacturing ecosystems.
This was followed by a brief introduction of a few key members of EEPC India and a Q&A Session.
Ms. Aarushi Gautam, Assistant Manager, Events & Membership (North) moderated the Session and thanked speakers for their valuable insights. The Session was attended by around 110 participants.