Event report • Webinar
IFCCI Technology Committee Virtual Networking Roundtable Session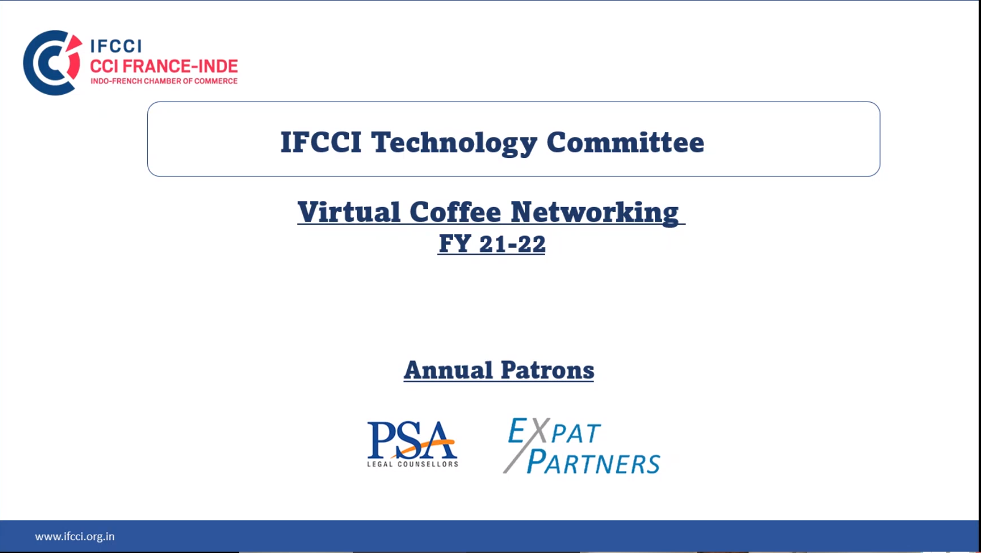 IFCCI organized its 1st Technology Committee Virtual Networking Roundtable session on 13th August 2021.
The IFCCI Technology Committee organized its first roundtable networking session for the current Financial Year on Friday, 13th August 2021. The session opened with the Welcome remarks presented by Mr. Priyank Prakash, Senior Manager- Events & Membership (KA, TS & AP Regions), IFCCI and SPOC of the Committee followed by a brief presentation on IFCCI Committees and the past activities of the Tech Committee in the last financial year by Ms. Rishika Roy, Head of Committees & Events(North).
Succeeding the presentation, the Chairman of the committee Mr. Clifton Menezes, Executive Vice President - ADMnext Group Offer Leader & India Portfolio Leader, Capgemini, and the Vice Chairperson Mr. Ranjeet Goswami, Global Head, Corporate Affairs, Tata Consultancy Services gave introductory remarks on the Tech Committee and spoke about their aspirations and potential engagements with the members.
Further to which, Mr. Ramachander, General Manager, Department of I.T, E&C Development (APEITA) Government of AP - presented the newly launched State Electronics & IT Policies as a guest speaker. Some of the key highlights of the were - Objectives of the department, Key service offerings like Investment Promotions, Investments Proposals, Ease of Doing Business in AP etc. Additionally, he also elaborated upon the EMCs, Policy Highlights, Investment Facilitation, PLI Scheme which was followed by a brief Q&A with the participants.
This was followed by a roundtable networking session and concluding remarks by the CVCs.
The IFCCI Technology Committee is supported by PSA and Expat Partners.