Members
Cabling class MOU Ceremony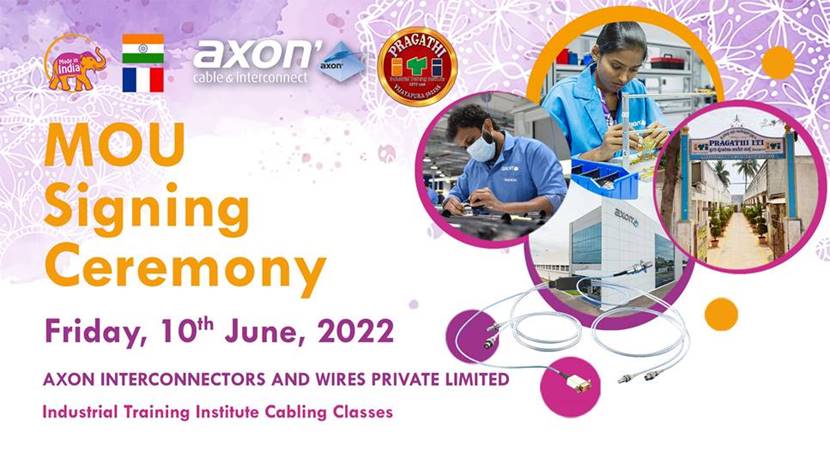 AXON' LAUNCHES CABLE OPERATOR TRAINING WITH ITI PRAGATHI
Axon' Interconnectors & Wires, the Bangalore-based Indian subsidiary of Axon' Cable Group, and ITI Pragathi, the Industrial Training Institute in Vijayapura, are joining hands to train students in the demanding field of connectivity. The signing of the Memorandum of Understanding (MOU) will take place at the Axon' factory in Bangalore on the 10th of June 2022 in the presence of the French Ambassador to India.
A TRUE PROFESSIONAL OPPORTUNITY
The objective of the cabling classes is to offer a diploma course to students of the Pragathi Institute in Vijayapura who have an interest in the fields of electronics, mechanics and cabling. This MOU opens up new opportunities for 16-year old girls and boys from rural areas. The students will alternate classes with two days of practical training per week at the factory in Bangalore. Axon' Interconnectors & Wires is committed to recruiting at least 50% of the graduating students at the end of their studies.
A COMMITTED GROUP
This memorandum of understanding is a perfect illustration of Axon's commitment to young people, and particularly young ladies, to offer them professional opportunities in a high-tech industrial environment. Both in India and in France, the Axon' group regularly welcomes and trains students of all levels. This approach is perfectly in line with the group's societal policy.
LOCAL INVOLVEMENT
Axon' Group's roots are in France, but the company is particularly committed to local integration in its host countries. This memorandum of understanding is part of an approach to local implementation that the group has been developing for a long time. To ensure the company's long-term survival, it is essential that Indian employees improve their skills through regular training in both France and India. Another important aspect of retaining the local team is to provide employees with European-level working conditions. The brand new factory built at the beginning of 2019 and equipped with a clean room for the space market is a proof of this. Equipped with a sports field and relaxation areas, Axon' Interconnectors follows the wellness and health programme recommended by the parent company. Volleyball, badminton and petanque tournaments are regularly organised for the 130 employees.
ABOUT AXON'
Based in Bangalore since 2009, Axon' India manufactures cable assemblies terminated with micro-D and other types of connectors. The Indian subsidiary is part of the Axon' Cable Group, which manufactures cables, connectors and interconnect systems for advanced electronics. In 1965, the company employed 5 people. More than 50 years later, the Axon' group, which is headquartered in Champagne, has more than 2,300 employees in some 20 subsidiaries around the world
Source : AXON