Event report
Webinar : IFCCI – ASSOCHAM Interaction With Mr. Piyush GOYAL & Mr. Franck RIESTER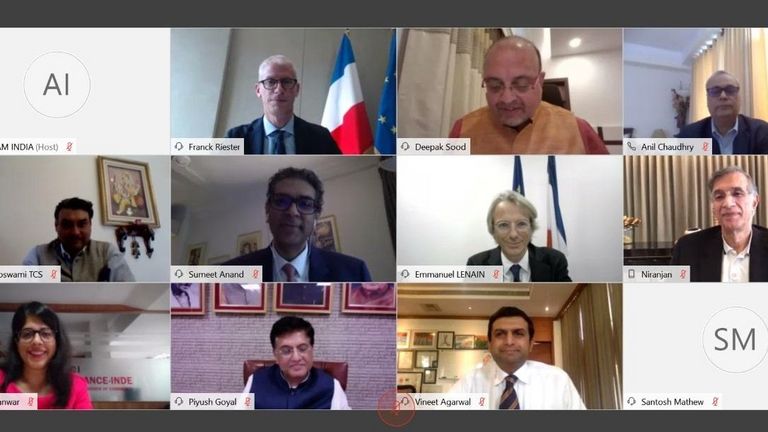 IFCCI in association with ASSOCHAM co-organised an Interaction with Mr. Piyush Goyal & Mr. Franck Riester on Business continuity between India& France
Download a copy of this event coverage
A special web conversation was organized in the objective of encouraging India France commercial and economic partnership in times of the COVID-19 pandemic. Mr. Deepak Sood, Secretary General – ASSOCHAM presented the opening remarks and welcomed all the dignitaries and participants.
The dialogue was spearheaded by Mr. Piyush Goyal, Minister of Commerce & Industry and Railways, and Mr. Franck Riester, French Minister Delegate for Foreign Trade and Economic Attractiveness, attached to the Minister for Europe and Foreign Affairs.
The session was also graced by the presence of H.E. Mr. Emmanuel LENAIN, Ambassador of France to India; Dr Niranjan Hiranandani, President – ASSOCHAM; Mr. Sumeet Anand, President – IFCCI; Mr. Vineet Agarwal, Senior Vice President – ASSOCHAM; Mr. Deepak Sood, Secretary General – ASSOCHAM; Ms. Payal S. Kanwar, Director General – IFCCI; Mr. Ranjeet Goswami, Head – Corporate Affairs, Tata Consultancy Services and Mr. Anil Chaudhry, Country President & Managing Director, Schneider Electric.
Mr. Piyush Goyal felicitated Indian and French industry for the progress made thus far and was confident that India France trade relations that currently stand at US$10 billion have a far greater potential to go beyond the modest projected target of US $15billion. He invited French companies to leverage the recent reforms undertaken by the Indian government towards optimising the Make in India programme boosted by the Atmanirbhar Bharat vision of the Modi government. Assuring the full assistance of his office to Indian and French companies in finding viable solutions and resolutions for expanding their business interests in the country.
Mr. Goyal also cited the famous French poet, Victor Hugo: "Nothing is more powerful than an idea whose time has come, and the time has come to take the idea of the India-French and the India-EU partnership to the next level."
India is converting the pandemic into an opportunity through schemes such as Make in India and Atmanirbhar Bharat. "Atmanirbhar Bharat is not about closing doors, in fact, India is inviting trusted and credible partners like France to work closely with and witness mutual development and growth. France and India are not in the competition with each other, rather we complement each other in post COVID economic revival," he added.
Responding to queries received from industry leaders, the Minister informed that Indian Railways invites French private companies to share technologies in the railway sector that India is lacking.
Furthermore, the Minister urged IFCCI and ASSOCHAM to collaborate with Invest India in exploring French companies' interest as the objectives of the organisations align with each other in inviting more investments in the country.
Mr. Franck Riester, the French Minister for Foreign Trade and Economic Attractiveness shared his government's ambition of quickly materialising a Fast Track Agreement and hopes to hold a Joint Economic Session at the earliest possible. He reiterated his government's commitment towards the implementation of the Paris Agreement, EU-India Strategic Partnership, EU-India Science and Technology Agreement and Innovation on Green Energy.
"COVID-19 pandemic is an opportunity to be bolder and daring in our partnership," Mr. Riester added.
"Bilateral trade and investment between India and France could be doubled within the next few years and that's what businesses and institutions from both economies are looking forward to leverage", said Dr. Niranjan Hiranandani, President ASSOCHAM.
"France and India have had longstanding good relations since decades and this remains strong even during the COVID19 pandemic. There remains a lot of scope for enhancing cooperation in the field of trade and investment and our Chamber is actively involved in this endeavour", Mr. Sumeet Anand, President, Indo-French Chamber of Commerce & Industry (IFCCI) said.
Representatives of TCS and Schneider Electric shared the experiences of their companies in France and India respectively and expressed confidence that the deep engagement of industry and political leadership on both sides will help the Indo-French partnership attain greater heights.
The Secretary General of ASSOCHAM, Mr Deepak Sood said, "The global leadership qualities of Indian Prime Minister, Shri Narendra Modi and the French President, H.E Mr. Emmanuel Macron have helped India and France work towards the advancement of India - France relations to take on a new meaning, new dimension and new depth." He assured the full cooperation of the ASSOCHAM in supporting industries on both sides for creating greater synergies and stronger relations.
Responding to queries, H.E. Mr. Emmanuel Lenain stated the current market share of French companies in India being lesser then 1% and insisted on the greater potential that can be leveraged into the Indian market, citing cooperation in sectors namely, Agro & Agri-Business, Energy, Urban Development, Transportations, Civil Nuclear, Space, Defence, Cyber and Digital sectors. "We can push more in these sectors with the help of government and ASSOCHAM," Ambassador assured.
While concluding, Ms. Payal Kanwar, Director General, IFCCI, thanked the forum and participants and urged Indian and French companies to engage with IFCCI and ASSOCHAM to identify and create collaborative platforms for the engagement and cooperation of Indo-French partnership to greater heights.
This exclusive interaction was attended by 250+ participants. It was well received and highly appreciated by the Indo-French and Indian business sectors.