Event report • Committees • Networking
Roundtable Meeting with Mr. Arun Singhal, CEO, Food Safety and Standards Authority of India (FSSAI)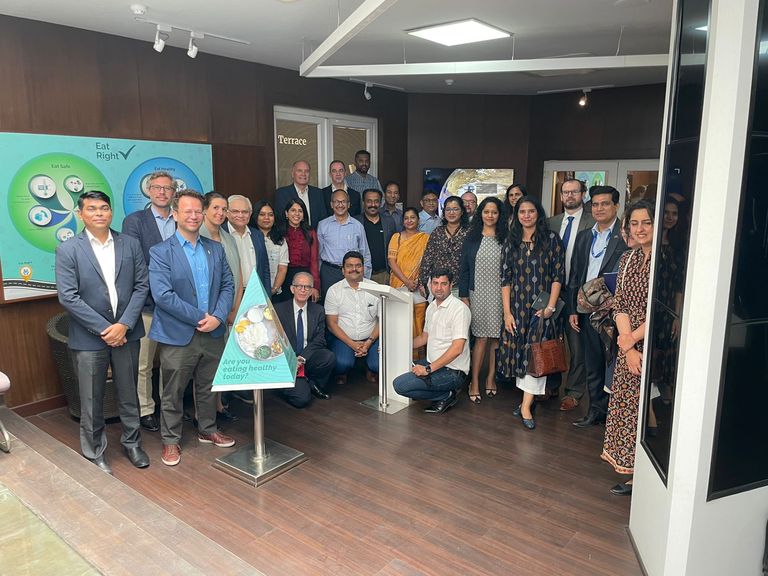 IFCCI led 30-member delegation comprising CEOs & Regulatory Heads of French Food N Beverage manufacturers & exporters to meet Mr Arun Singh,CEO,FSSAI
Download a copy of this event coverage
Indo-French Chamber of Commerce & Industry (IFCCI) led a 30-member delegation comprising CEOs and Regulatory Heads of French Food and Beverage manufacturers and exporters to meet Mr. Arun Singhal CEO, FSSAI. The objective of this meeting was to create a dialogue between the French F&B industry in India and the FSSAI to discuss issues and recommendations around food safety standards and regulations.
Ms. Payal S. Kanwar, Director General, IFCCI opened the Session followed by Remarks by Mr. Eric Fajole, Head, Business France, Mr. Sébastien CONNAN, Regional Counsellor Intellectual Property India & South Asia and Ms. Maria Fladl, Counsellor - Trade and Economic Division, the Delegation of the European Union.
The closed-door roundtable meeting was attended by representatives of companies such as Andros, Decathlon, Fromageries Bel, Lesaffre, L'Opera, Leadlinks, Louis Dreyfus, Mane, Monin, Pernod Ricard, Savencia Fromage and Dairy, Roquette, Soufflet, Lactalis.
Mr. Vianney MEYNIER, Head of Department for South Asia, Agrotech, Business France and Mrs. Moulshree Dagar, Attaché – Agriculture, Food Processing and Health form Embassy of France also joined the Meeting,
Member companies thanked FSSAI for some of the recent amendments made by the authorities and raised their key issues/challenges as well as deliberated upon the current FSSAI regulations and policies across sub-sectors such as jams and yogurts, sports goods, bakery, dairy, cheese, flavoured milk, dry fruits & nuts, processed food products, human health and nutrition, edible oil refinery of soya, palm & mustard, flavours & seasonings, fruit syrups, non-Fruit syrups, alcoholic beverages, pharma and animal feed ingredients, malted barley, etc. IFCCI also presented a Recommendation Document on behalf of its participating members for ease of doing business in the food and agribusiness industry in India.
Mr. Arun Singhal, CEO, FSSAI addressed all the queries in detail and ensured continuous support to the Industry for trade facilitation. He mentioned that FSSAI is working on harmonization of standards, capacity building, strengthening compliance and food testing eco-system to improve the scenario of food safety and nutrition in the country. The meeting was well received by participants.