Webinar • Event report • Events • Committee • Conference & Seminar
Rendezvous with Mr. Kishore Kumar, General Manager - Brand Intelligence, Bigbasket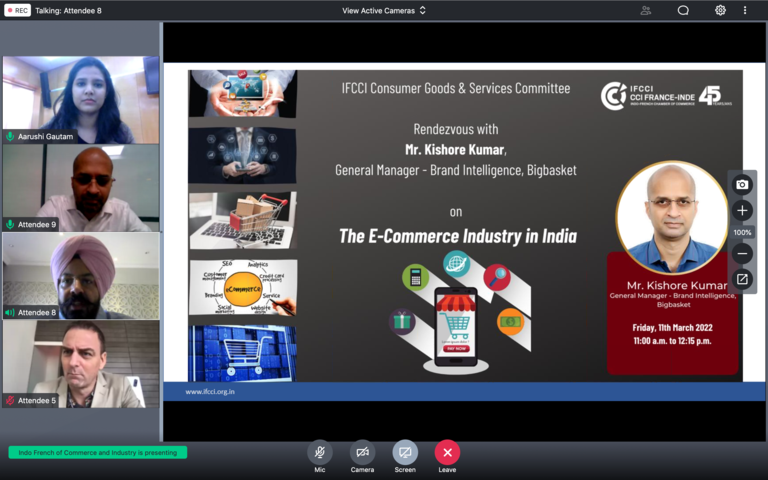 IFCCI organized the first meeting of 2022 of the IFCCI Consumer Goods and Services committee on Friday, 11th March 2022
Indo-French Chamber of Commerce & Industry (IFCCI) under the aegis of its Consumer Goods & Services Committee organised Rendezvous with Mr. Kishore Kumar, General Manager - Brand Intelligence, Bigbasket on Friday, 11th March 2022.
The Session commenced with Opening Remarks by Ms. Aarushi Gautam, Assistant Manager - Events & Membership (North), IFCCI who welcomed the speaker and the participants followed by Introductory Remarks by Mr. Alamjit Singh Sekhon, Chairperson, IFCCI CG&S Committee and Commerical Director, Bel Fromageries India. Mr. Sekhon briefed the participants about the objective of the Session and had set the context for the discussion.
Mr. Kishore Kumar, General Manager - Brand Intelligence, Bigbasket presented a comprehensive overview on the changing sands in E-Commerce, global trends in Q-Commerce & smart kiosks, consumer behavior shift during COVID-19 & the impact it had on Bigbasket and the E-Commerce industry at large. He also enlightened participants on how E-Commerce is a source of insights for brands & shared case studies where in different brands have partnered with them and their growth stories.
This was followed by an interactive Q&A Session wherein participants raised several queries relating to consumer's feedback on bigbasket strategy, ESG messaging, segmentation of consumers in BB ecosystem, coexistence with kirana stores, etc. The Session was attended by over 40 participants.