Webinar • Event report • Webinar
PAN India : Webinar on Managing Supply Chain amidst COVID-19 CRISIS
IFCCI Logistics committee organized a webinar on Managing Supply Chain-COVID-19 in presence of Shri. N. Sivasailam, Former Special Secretary-Logistics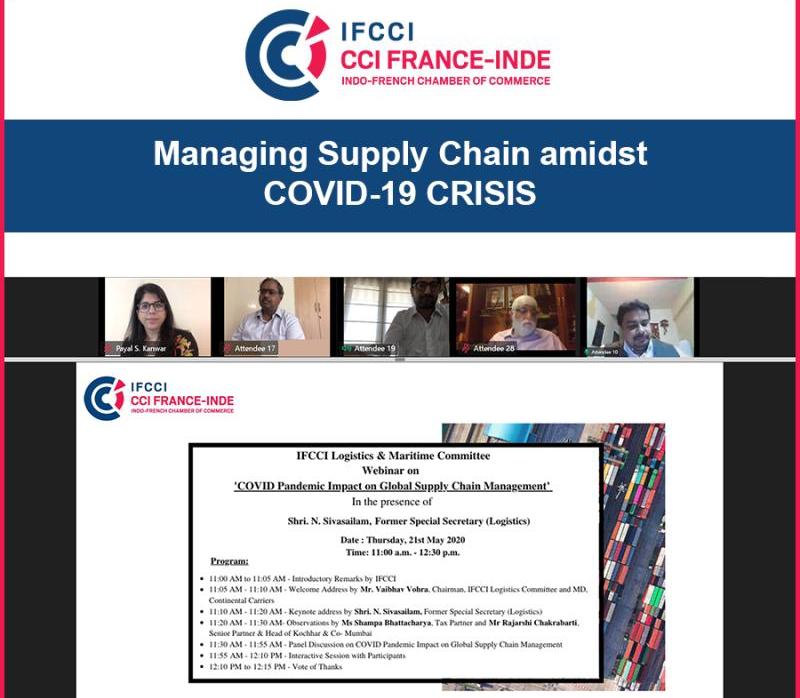 The Logistics and Maritime Committee of Indo-French Chamber of Commerce & Industry (IFCCI) organized a webinar on 21st May 2020 on Managing Supply Chain amidst COVID-19 CRISIS in the presence of Shri. N. Sivasailam, Former Special Secretary (Logistics).
The session commenced with introductory remarks by Ms. Payal S. Kanwar, Director General, IFCCI and highlighted the key initiatives taken by the Chamber during the pandemic.
Followed by a welcome note by Mr. Vaibhav Vohra, MD- Continental Carriers Pvt Ltd (Committee Chairman) and talked about managing of supply chain during the pandemic, fragility of modern supply chain and the economic impact of trade around the world.

Shri N. Sivasailam- Former Special Secretary(Logistics) shared his valuable insights and experiences in the supply chain scenario amidst COVID-19 while answering the question where do we go from here. He informed all the participants that the key issues to having smarter supply chains lies outside the systems and is mainly because of the institutions in the picture. Moving forward he accepted that the complexity in the existing systems is because of the politics of various stakeholders. He then highlighted the various sectors where the Indo-French partnership can be forged for the benefit of the whole world. These sectors included the MRO sector, the rail sector and the shipping sector.
Mr. Rajarshi Chakrabarti, Senior Partner and Ms. Shampa Bhattacharya, Partner from Kocchar and Co. shared their observation on tax and legal implication on the supply chain and the regulatory changes and announcements done by the Government of India to face this unprecedented situation.
This session was followed by an interactive panel discussion on COVID-19 pandemic impact on the global supply chain management.
Panelist:
• Shri. Sivasailam N, Former Special Secretary (Logistics)
• Mr. Abhinav Sinha, Country Manager Supply Chain & Logistics, Michelin India
• Mr. Prashant Shukla, Head of Supply Chain, Roquette India
• Mr. Vipin Vohra, Chairman, Continental Carriers PVT LTD
It was an insightful Session with over 60 participants joining the Session.The session was concluded by a vote of thank by Ms. Rishika Roy, Head- Committees & Events(North), IFCCI.