New Delhi : First meeting - IFCCI CFO Committee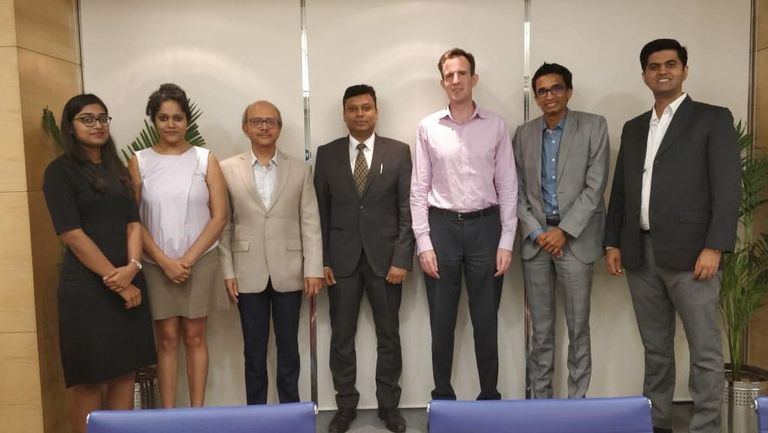 The first meeting of the IFCCI CFO Committee was held on 29th June 2018 at the Dassualt Systemes office in Gurgaon. About 6 company representatives attended the meeting which was presided by the Chairman, Mr. Sugata Sircar, CFO & Country Finance Partner, Schneider Electric India and the Vice Chairman, Mr Francois de Thomasson, CFO Bollore Logistics Pvt Ltd.
The meeting was opened by Ms Rishika Roy from IFCCI where in she welcomed the new members who have joined the committee for FY 2018-19 along with the existing members. The meeting was then taken over by the committee chairman who gave an overview of committee's working report for 2017-18 which included various sessions on GST post implementation – it's analysis, digitisation in Finance and working capital financing. After this the meeting was open for inputs for this year's key initiatives and roadmap.
Mr. Sugata Sircar, CFO & Country Finance Partner, Schneider Electric India started the discussion by proposing that the committee should be a platform for experience sharing on various topics eg : how do other member companies evaluate the business performance-KPI, sales incentives etc.
Mr Philippe Teisseire, Finance Director, Bic Cello(India) Pvt Ltd would like to learn and discuss in detail more on GST issues, sharing good practices including various tools used by companies. He also expressed his interest to learn different managerial skills between Europe and India.
Mr Nilesh Kambli, CFO, Bharti Axa General Insurance would like to learn more on the compaliances and regulations with respect to taxes, evaluation of GST and technologies like RPA.
Mr Francois de Thomasson, CFO ,Bollore Logistics Pvt Ltd raised the issues faced by Bollore with respect to tax administration, Indian administration, GST. Being French company operating in India they would like to know more on criteria for new recruitment and performance measurement in India.
Mr Deepak Garg, CFO, Dassault Systemes agreed with other members relating to GST, sharing best practices and technology.
After taking all view points it was proposed an intercultural training can be conducted with IFCCI HR committee and workshop on Transfer Pricing.
The meeting was then followed by discussion on CFO Yearbook with SKP which is to be prepared by mid of August and to be launched at IFCCI CFO Summit in September.
The meeting was concluded by high tea networking session.