Event report • Networking
Mumbai : Inauguration of IFCCI Mumbai Office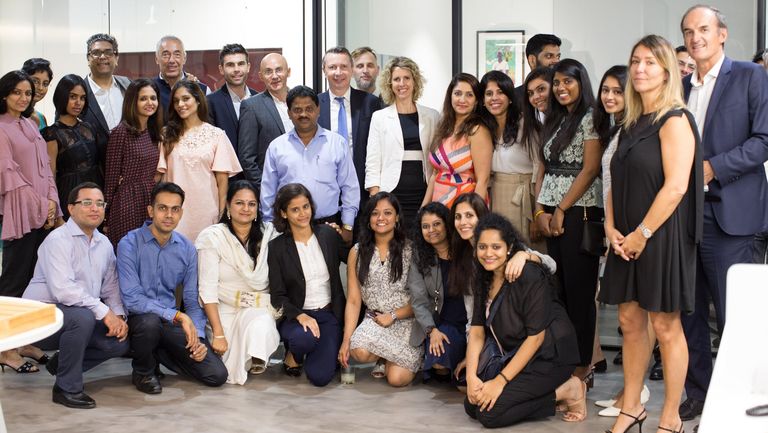 Download a copy of this event coverage
The Indo French Chamber of Commerce and Industry inaugurated its New Head Office at the One Forbes, Kalakoda, Fort in Mumbai on Thursday 16th May 2018.
Strategically nestled in the Central Business District, it is a dignified landmark establishing itself as one of the most exclusive corporate addresses in Mumbai. This office is shared with the official French Tourism Development Agency, Atout France and is a hub for promoting Indo-French business and tourism.
The office was inaugurated by Ms Sonia Barbry, Consul General of France andMr. Guillaume Girard-Reydet, President of IFCCI and Managing Director, PernodRicard India. We also had amidst us Mr. KaustubhDhavse, Officer on Special Duty, CMO, Government of Maharashtra along with some renowned IFCCI members.
Speaking on the sidelines of the inauguration, Ms. Sonia Barbry said, "Our aim is to promote Indo-French relations and strengthen our ties in all areas of business. IFCCI and Atout France have been actively promoting Indo-French relations and are set to gain much with this newly established office".
Ms. Payal S. Kanwar, Director General of IFCCI highlighted that IFCCI has grown to become India's most prominent bilateral chambers of commerce operating out of four cities.The inauguration ceremony was followed by a networking cocktail with fine cuisineand Sparkling wines adding taste and glamour to the event.
Last but not the least, IFCCI is grateful to its team and all its members for making the inaugural a success. Also, special thanks to Elior Group, India and Pernod Richard for their outstanding support, service and participation.