Communication - Press
India And France Set Up The ISA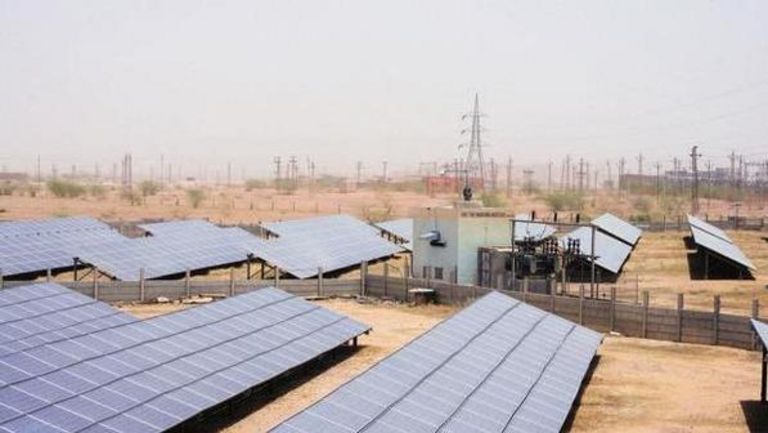 ISA will see the number of inducted countries that have signed its framework agreement reach 100 nations at its second general assembly India has stepped up efforts to sign up two-dozen new countries from geographies such as West Asia
In the run-up to the second general assembly of the International Solar Alliance (ISA) to be held in New Delhi from 30 October—2 November, the first treaty-based international government organization headquartered in India has stepped up efforts to sign up two-dozen new countries from geographies such as West Asia.
ISA will see the number of inducted countries that have signed its framework agreement reach 100 nations at its second general assembly, from the 76 countries who are currently signatories to the landmark agreement. With India and France front-ending the attempts to set up the ISA, it has become India's calling card on climate change and is increasingly being viewed as a foreign policy tool.
"All efforts are on. The idea is to reach the 100 country mark by the time of the second ISA assembly that will start in October end. A majority of these new countries will be from West Asia," said a person aware of the development requesting anonymity.
Prominent inter-governmental organizations in the energy sector include the Vienna-based Organization of the Petroleum Exporting Countries (Opec) and Paris-based International Energy Agency (IEA). Interestingly, India has pitched ISA as a counterweight to Opec, with the fossil fuel consumers calling for a global consensus on "responsible pricing" against the backdrop of rising global oil prices.
Initially, ISA envisaged 121 sunshine countries situated between the tropics of Cancer and Capricorn as its members. Prime Minister Narendra Modi had pitched for a global electricity grid while inaugurating the first general assembly of the ISA in October 2018. He had also announced the "universalization" of membership with India moving the proposal to make all United Nations members eligible for ISA membership in the assembly.
Mint reported on 27 June 2018 about China and Pakistan showing interest in becoming members of the alliance. While 76 countries are signatories to the ISA framework agreement, 54 have ratified it. While those countries who have signed and ratified the ISA framework agreement will attend the second general assembly as members, those countries who have only inked it will be attending as observers.
Queries emailed to the spokespersons of ISA and India's ministry of new and renewable energy weren't immediately answered.
"Upendra Tripathy (director general, ISA) emphasized the need to align fiscal, financial and industrial policies to cumulatively charge up the global energy ecosystem and bring energy access to more than one billion people who are without power in the world," the Indian government said in a 8 August statement.
The global energy landscape has been rapidly evolving. From the London Stock Exchange (LSE) classifying oil and gas stocks as non-renewable energy to the decision of Norway's Government Pension Fund Global (GPFG), the world's largest sovereign wealth fund, to stop investing in oil and gas explorers globally, there has been a fundamental change in the global investment culture against the backdrop of growing climate concerns.
India has taken the lead as a clean energy champion and is ranked fourth and fifth, globally, in installed capacities for wind and solar power, respectively. India has become one of the top renewable producers globally with ambitious capacity expansion plans. The country has an installed renewable energy capacity of 80 gigawatts (GW) and is running the world's largest renewable energy programme with plans to achieve 175GW by 2022 and 500GW by 2030, as part of its climate commitments.
India is also putting the final shape on a plan to build Tesla-style giga factories to manufacture batteries that involves raft of incentives such as concessional financing options, friendly tax regimes and a suitable basic customs duty safeguard.
At present, India has an installed power-generation capacity of 357,875 megawatts (MW), of which around 22% or 80,000 MW is generated through clean energy projects such as solar and wind. With addition of large hydro projects to clean energy segment, India is poised to have 225 GW of renewable energy by 2022.
Source : Live Mint