Actualités
Interview with Pierre-Yves Hoorens, business manager India, Hauts de France Tourism Board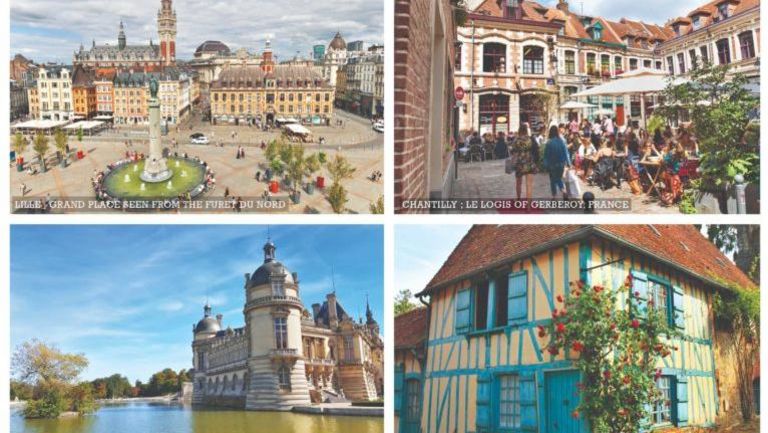 Hauts de France is aggressively targeting India, with its rich cultural offer, beautiful castles and vibrant cities that are home to numerous Indian students. Pierre-Yves Hoorens, business manager (India), an indophile like some of his compatriots, explains his strategy and vision.
As a region, you have been working on the Indian market for a few years now, what's the growth and how do you foresee the development opportunities in the market?
When we started promoting northern France, we realised France meant only Paris to most of the Indian travellers. The journeys began and ended in the city of lights. Therefore, our immediate task was to try and change that mindset. Last year, we focussed on creating awareness about the Hauts de France region, primarily through social media and the film industry. While our numbers might appear small, every year we welcome more and more Indian visitors. However, we know that changing behaviour is not natural, and it will take much time, patience, and efforts to make this happen. We are committed to achieve that goal and adapt ourselves to the demand. Chantilly is still the showstopper of the region with burgeoning year-on-year growth of Indian visitors. Proximity to Paris and a fairy-tale setting has made it a much sought after venue for big fat Indian weddings and pre-wedding photoshoots.
What are the main tourism products that you are pushing in India? And your key target segments?
Mostly, we focus on FIT and MICE. We know, usually, for the first trip to France or Europe, Paris is one of the primary attractions, followed closely by the French Riviera. However, for repeat visitors and travellers with a broader interest, Hauts de France region has much potential. For starters, we promote the Chantilly Castle a lot, because compared to the hullabaloo of famous tourist attractions, it offers a detoxifying environment to travellers through its lush green and calm environs. Additionally, it is very romantic and a real gem of the renaissance! The other place we are promoting heavily, is Lille, the capital of Hauts de France. Its biggest draw is its accessibility-less than an hour from Paris, 20 minutes from Brussels and one and a half hour from London. Moreover, the best part about Lille is its people, which has earned it the label of 'the friendliest city in France.'
Strategy wise, you have been very niche, what are the promotional activities you have done on the Indian market?
Since I am dedicated to the Indian market only, I visit India a lot and have a wide variety of contacts in the travel and media industry there. Otherwise, I attend events organised by Atout France, especially the Experience France workshop, which was this year in Mamallapuram. I also work very closely with both new and traditional media to reflect the changing media landscape in India.
What's new in Hauts de France?
As the region is still considered offbeat in India, we can say that everything is still new! However, we are very proud to announce that Lille has been voted as the World Design Capital for 2020. It is the first city in France to be a World Design Capital, and the first city which is not the capital of a country. The award is given to a city for innovative use of design to strengthen economic, social, cultural and environmental development. Lille was chosen over other world cities for balancing its creative traditions and rich heritage while showcasing the catalytic benefits of embracing human-centred design thinking at city-scale. On the one hand, the town preserves its medieval multi-culture heritage and architecture with kid-gloves, and on the other hand, it remains future-focused through developing cutting-edge infrastructure and improving the overall quality of life.
Next year, a series of events is planned in Lille to commemorate the World Design Capital award. The city is already buzzing and vibrant with the preparations!
The region is also known to host a lot of Indian students; how fun it is to study in there? Why Indian students should choose Hauts de France?
Lille was one of the first cities to provide educational programmes in English and that too in many different fields – business, engineering, biotechnology, agronomy, graphics, special effects and many more.
When it comes to living, everyone knows Lille is the place to be in – a fun place to hang out and connect with likeminded people. Being strategically positioned close to Belgium and the UK, it becomes the hub to travel and discover many places in Europe. Thanks to high-speed trains and other means of transportation, connectivity is never an issue. You can find more information on 'Indians in Lille' Facebook group.
What about the promotion of Hauts de France as a shooting location, what are your USPs and upcoming plans.
We know that just like travel agents, the cinema industry is also looking for new locations to shoot. Thanks to our proximity to Paris and many different landscape options, it becomes very convenient for Indian production houses to come and shoot in Hauts de France. Most importantly, because we know how to welcome Indians, we understand their needs and have successfully worked together on several projects.
You recently had Indian Prime Minister Modi in Chantilly, which was heavily mediatised in India. Will it boost arrivals from India?
The Prime Minister came for the G7 event, but before attending the meeting, he was invited for a visit to Chantilly by our President Macron. Thanks to his visit, we got much positive coverage in the media. He is probably the best influencer we can have! Just 20 minutes from the CDG airport, it is an ideal location to host such a big state-level rendezvous. In the past, the castle has hosted many big-ticket events like lavish weddings of the Indian business moghuls, and the movie Befikre starring Bollywood heartthrob Ranvir Singh, was shot here too. Chantilly has now definitely developed a secure India connection!
The India Connection
Hoorens speaks about his journey in India, a country with which he fell in love!
Sometimes a small journey can have a significant impact on your life. That is precisely what happened to me a few years back when I went to Nepal for an internship in the travel industry, and that trip became the catalyst of a lifelong affair with the Himalayas and the Indian subcontinent. After returning from Nepal, I decided to keep exploring and promoting this treasure trove of a region. India specifically piqued my interest, and I joined a Delhi-based French outbound company to inspire and help French nationals explore India. As a destination manager for Ladakh and Himalayas, I got an opportunity to stay in Ladakh for several months as well as in Delhi and got the chance to explore Rajasthan and Uttarakhand. When I returned to France, I decided not to forget the bond I had formed with India and waste the knowledge I had gathered about the country and its people. So, I joined the Hauts de France Tourism Board to promote northern France to Indian travellers.
Source - Media India Group