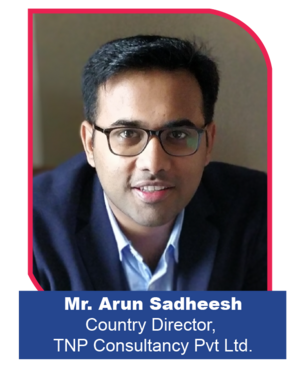 -Mr. Arun Sadheesh, Country Director, TNP Consultancy Pvt Ltd.
What are the business and investment opportunities you see between India and France?
The business and investment opportunities between India and France offer immense potential for growth and collaboration. Both countries have strong economies and offer unique advantages for companies looking to expand their operations internationally. We anticipate a close collaboration between both countries in various areas such as market entry and expansion, cross-border mergers and acquisitions (M&A), technology collaboration, infrastructure development, and skill development.
What are some of the key challenges faced by your industry in the Indian market as well as by your company specifically? Can you describe some of the strategies you've implemented to overcome these challenges?
We have observed a lack of awareness among individuals regarding the wide range of services we offer. Often, our company is mistakenly perceived as solely providing consulting, software development, or manufacturing services. However, we specialize in delivering comprehensive solutions for business, digital and regulatory transformation initiatives.
We maintain strong relationships with the French community in India, fostering close connections with esteemed entities such as the French consulates in Pondicherry, Mumbai, and Delhi, as well as the Indo-French Chamber of Commerce and Industry (IFCCI) and Business France. By actively participating in networking sessions and event sponsorships organized by these influential organizations, we ensure our presence within the business community and enhance our visibility.
What have been the biggest accomplishments of your company in the last few years?
We are proud that our operations in India have experienced remarkable growth with a minimum growth of 30% growth every year since inception. TNP India today is the group's largest subsidiary outside of France, making it the second greatest contributor to our group revenue after France. Our ambition in the coming years is to establish TNP India as a leading consulting firm in the transformation space in India, and we believe that our French DNA will be crucial to achieve this dream
How has IFCCI added value to your organization in India? Would you recommend other companies to join IFCCI as a member?
The Indo-French Chamber of Commerce and Industry (IFCCI) has proven to be an invaluable platform for us to connect with senior decision-makers from French firms operating in India. We have benefited tremendously from our association with IFCCI, as they have kept us well-informed about various events taking place in South India.
Given that our headquarters are in Kochi, where the presence of French companies is relatively limited, IFCCI has expressed their intention to organize events in Kochi. This initiative aims to attract a greater number of companies to Kochi, providing us with more opportunities to connect and collaborate with potential partners. By facilitating such gatherings, IFCCI contributes significantly to fostering business relationships and stimulating growth in the region.
We have found the IFCCI directory to be an excellent resource for reaching out to companies in need of our services. The directory has allowed us to identify and connect with relevant prospects, enhancing our outreach efforts and expanding our network within the business community.
Yes. We would recommend other companies to join IFCCI as a member.