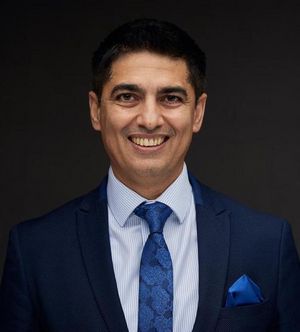 -Mr. Vikrant Rana- Managing Partner, S.S. RANA & CO.
Self and Company Introduction
I am the Managing Partner of S.S. Rana & Co., a premier full-service law firm in India. Having majored in Economics, I have an in-depth understanding of the micro and macro factors influencing businesses, and my clients mention that I 'consistently exhibits great skills and knowledge combined with a friendly and direct approach'. I have been consistently ranked in the silver band for trademark prosecution and strategy by the World Trademark Review. I have also been ranked in the TOP 100 A list lawyers in India by Indian Business Law Journal 2017, 2019, 2020, 2021 and 2022. I have also been recognized as one of the IP STARS from India. With my business understanding and experience of more than 27 years, I have been providing practical legal advice to many Fortune 500 companies and some of the world's most esteemed corporations, on securing, protecting, enforcing and exploiting their Intellectual Property assets in India and world over.
Educational qualifications
Enrolled with the Bar Council of Delhi in 1996, I am also an Advocate on Record with the Supreme Court of India (2006), and a Registered Patent Agent (1998). I am also an IP Facilitator with the Government of India's Start-ups Intellectual Property Protection (SIPP) scheme launched in 2016. I have also recently been appointed as the Professor of Practice by the Law College of Dehradun, Uttaranchal University.
IPR sensitization and awareness
IPR sensitization and awareness is something that I am very passionate about and in pursuit of raising IPR awareness.
I am actively involved in sensitizing the business as well as academia about Intellectual Property Rights in India. I have conducted more than 500 IPR awareness programs across academia and government bodies in India and across the world in the last 27 years and have been associated with several organizations including TIFAC, ISRO, Department of Science and Technology, Patent Facilitating Centers (PFC), Patent Information Centers (PIC), FICCI, Ministry of Small-Scale Industries (MSSI), CII, WIPO, TERI, IIM Ahmedabad, Banaras Hindu University, Uttaranchal University, Jamia Milia Islamia, IIT Delhi, NLU Orissa etc. and am a frequent speaker and panelist in seminars and conferences conducted by these organizations, colleges and universities.
The firm has a CSR initiative- IP4Kids, a platform exclusively focussing on raising awareness about IPR among college and school going students. The Platform is solely dedicated towards organizing events that involve and encourage students to indulge in IPR activities like essay writing competitions, design competition etc.
Membership in Committees and Associations
S. No.

Name of Committee

1.

INTA- Trademark Office Practices Committee

2.

INTA- India IPO Subcommittee

3.

Chair of the INTA MEASA Sub-Committee of the Famous and Well-Known Marks Committee (1/1/2018 - 12/31/2019- During my term, the SC has completed the three major objectives:

related to Article 6bis;
Dilution project;
Domain names project.

During this term, I also represented the SC in front of the Controller General of Patents, Designs and Trademarks, India to discuss certain challenges faced by the industry in relation to the registration of well-known trademarks.

4.

Co-Chair of INTA's India Global Advisory Council (1/1/2020 - 12/31/2021).

5.

European Communities Trademark Association ECTA- since 2016

6.

Marques- since 2019

7.

FICPI International Federation of Intellectual Property Attorneys

8.

Asian Patent Attorneys Association APAA

Vice President of APAA India Group

9.

International Association for the Protection of Intellectual Property AIPPI
Presently serving as the Co-chair of the IP Committee of Society of Indian Law Firms (SILF).
I am also an avid sports man and enthusiastic runner; I have completed 15 half-marathons including the prestigious Airtel Delhi Half- Marathon and Standard Chartered Mumbai Half Marathon. I am also a Certified Yoga instructor and have provided training to many yoga enthusiasts at the Aurobindo Ashram, Delhi.
I am also an Arbitrator with the National Internet Exchange of India (NIXI) to adjudicate domain name disputes under the INDRP policy.
What are some of the key challenges faced by the French business industry operating in the Indian market? Can you describe some of the strategies or best practices to overcome these challenges?
In this fast-paced economy coupled with advent and use of unprecedented technology and technological tools, it has become imperative that every business firstly identify its IP assets, secure them, monetize them and prevent misuse of the same and also, plans to use its Intellectual property, counterfeiting, piracy, misuse of IPR by third parties.
Hence, its high time that businesses including French businesses operating in India have adequately protected their IP rights in India.
It is notable to mention here that as per the IPINDIA's Annual Report of 2021-22, France is one of the top ten foreign patent applications filer in India with 994 patent applications in 2021-22. However, trademarks and design application filings are relatively low with 125 and 104 applications respectively in the comparison.
Firstly, one of the challenges which any foreign company faces is that they are not adequately aware about the IPR laws prevalent in India. For instance, there are many foreign start-ups and small enterprises operating in India, which are unaware about the various incentives and benefits available to registered start-ups and small enterprises in terms of patent and trademark filings. Hence, it is very essential to make French business industries aware about the IPR landscape in India.
Secondly, the Indian IP office is fully digitized now and the encumbrances and delays that were faced in registering an IPR in India previously has now reduced significantly. It is noteworthy to mention here that we have obtained patent and trademark registration for many entities within a time frame of less than a year and recently we had secured patent grant for a start-up client within 6 months and 12 days only. Hence, the previous apprehensions about Indian IP office and administration of being time taking and involving lengthy procedural compliances has been mitigated to a great extent.
Lastly, the establishment of Delhi High Court's Intellectual Property Division (IPD) i.e. a Bench exclusively dealing with IPR cases only has strengthened the Indian IPR ecosystem and within a span of one and a half year the IPD has acted very proactively and passed judgments and orders which have made the IPR enforcement and protection system in India strong and reliable.
What have been the biggest accomplishments of your organization in the last few years?
S.S. Rana & Co. has grown by leaps and bounds in the past two decades and has extensively expanded its corporate and dispute resolution practices and today the Firm serves several Fortune 500 companies, multinationals, grass root innovators in India and across the world.
The firm is in India that is a single point of contact for its clients for the services it offers in the countries in South Asian Association for Regional Cooperation (SAARC) region, namely Bangladesh, Maldives, Bhutan, Nepal, Pakistan and Sri Lanka.
Awards
The Firm has been consistently recognized for its incredible legal practices by several reputed national and international journals:
SSRANA
Award Winning Law Firm 2023 and 2022 (IBLJ)
Recommended Law Firm 2023 and 2022 (WTR)
Leading Firm Asia- Pacific 2023 and 2022 (Chamber and Partners)
Global Law Experts 2022 Winner
Vikrant Rana- Managing Partner at SSRANA
The A- List- India's Top Lawyers 2023 (IBLJ)
Recommended Individual 2023 (WTR)
IP Star 2022 (Managing IP)
Appointed as Professor of Practice by Law College Dehradun, Uttaranchal University
Recent Case achievements
The Firm has been successful in enforcing and protecting the IPR rights of its clients and in the recent past has obtained favourable orders by the Courts in India in IP, corporate as well as dispute resolution matters. For instance, the Firm recently defended a giant coffee retailer in a trademark infringement suit before the Hon'ble Delhi High court and was also able to procure award of hefty pecuniary damages against the infringer. Similarly, in a very recent matter, the Firm represented an international energy drink brand in an infringement suit and was able to procure damages from the infringer for infringement as well as for Contempt against the order of the Court.
How has IFCCI added value to your organization in India?
The Firm has been associated with IFCCI since 2014 and the Firm truly values this association. The Firm in association with IFCCI has organized events which have been of immense value and offered excellent networking opportunities to the Firm. For instance, recently in March this year on the occasion of Women's Day, the Indo-French Chamber of Commerce & Industry and Indo-German Chamber of Commerce in partnership with S.S. Rana & Co. organized Women's Day Cocktail.
Thereafter, in June 2023, the Firm had collaborated with IFCCI to organize an IPR awareness workshop for French SMEs in India at the French Embassy. The workshop offered a wonderful opportunity for the Firm to indulge in fruitful interaction with French companies, wherein the companies shared the challenges faced by them in protecting IPRs and the Firm answered their queries. The Firm considers such workshops organized by IFCCI of prominence.
The Firm in all appreciates this collaboration and looks forward to the organization of more workshops and networking events in the near future.