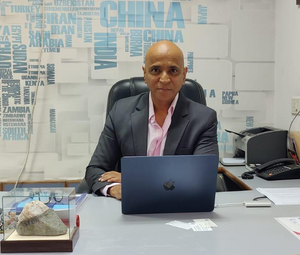 -Shiv Raj Singh, Managing Director, Atithi Voyages
Self and Company Introduction
I am the Managing Director of Atithi Voyages Pvt Ltd. Home grown in a Military family, discipline, respect for time and respect for others become part of your day to day routine, something that has naturally been imbibed into the agencies work ethics. I am deeply passionate about adventure from Mountaineering, Rock climbing, Motorbiking, Wildlife Safaris and Wildlife Photography. These are just some of the things Atithi Voyages specialises in in the regions of Rajasthan, Ladakh, North-East India, Madhya Pradesh to kerala. We cover pan India, Nepal, Bhutan and Sri Lanka for these unique trips and more. We have a discerning eye to detail and provide out of the box experiential holidays for travellers. The agency was established in May 1997 and handles clients from most of Europe, UK, North and South Americas and Australia. I am deeply passionate about the products I deliver for each and every client. Since all our trips are tailor made, all the ingredients used, are to suit your personal palate as the trips individually hand crafted for you. Prior to my starting my own agency Atithi Voyages, I worked for a Travel agency in Paris, France for 13 months and was responsible for product development. Prior to that I worked for a leading travel company in India for 6 and a half years. During this period I had the opportunity to watch, hear, learn and pick up the French language. Its one of the many languages I speak.
What are the business and investment opportunities you see between India and France?
India and France have a great Business relation on many levels. Tourism is one such sector where we are both strong countries. In the outbound sphere India is set to touch 40 Billion US Dollars by 2026. In the Inbound sphere we are barely touching 10 million tourists a year. So it's a long way to go. There have been some mergers and acquisitions in this area in the past and post Covid too. Both French and Indian travellers are very cultured and well read travellers.
What are some of the key challenges faced by your industry in the Indian market as well as by your company specifically? Can you describe some of the strategies you've implemented to overcome these challenges?
I believe Visa both for Indians visiting France and for the French visiting India, has been a very hard bone to chew on. With opening up some years and moving to E-visa, this has helped the last minute traveller and also the discerning traveller to be assured of not having the hassle of going down to Paris to apply for a Visa and an interview and thus have incremental costs to the travel added. So from the Indian Side the E-visa has been a blessing. It would be great to have a similar possibility from the French side to ease the travel between borders. For regular travellers both sides need to be a little softer and allow longer duration visas, as this helps turn around volumes in tourism. I also feel India as a destination needs to be promoted more seriously in the French market, as people have little to bad information and statistics about India. Recently the Government of India has shut down its international Tourist offices, and this doesn't help the case much. As a Destination Management Company and a specialist off the region, we travel overseas very often to market the Country and make things more clearer about India. For example most overseas agents don't know and don't believe India has the potential for high end travellers. We cater to some of the most impressive Hotels around the world in India and a service which cannot be rivalled elsewhere.
What have been the biggest accomplishments of your company in the last few years?
Just pre-Covid the tourism market was already taking a beating and post Covid the market has just shown signs of revival and people are travelling. We have been lucky to have kept our staff during these tough years. It's a mutual respect situation. Covid gave us the time to re-allign ourselves, re-strategise and go full throttle to newer markets. One of the things we are doing now is catering to high end travellers and showing them the full potential of India in this realm. During this period of Covid we aligned ourselves to serve the Corporate world and have done Conferences and Incentive getaways for companies based within India. Since we had been handling some of the Embassies and some Corprorates, it was a good time for us to spread ourselves further within this realm of tourism. Our USP here being we help you find quaint destinations and also hotels which by themselves are destinations.
How has IFCCI added value to your organization in India? Would you recommend other companies to join IFCCI as a member?
IFCCI is a brilliant platform to meet Top CEO's from different spheres of work and exchange thoughts and the possibility of a great working relation. It's a great cohesive structure which helps one to reach out to great networking opportunities and meet like minded people. I would definitely recommend IFCCI to others.