IFCCI is organizing a webinar on Understanding the Business of Luxury with tRetail Labs led by Prof. Denis Morisset on 22nd August 2023.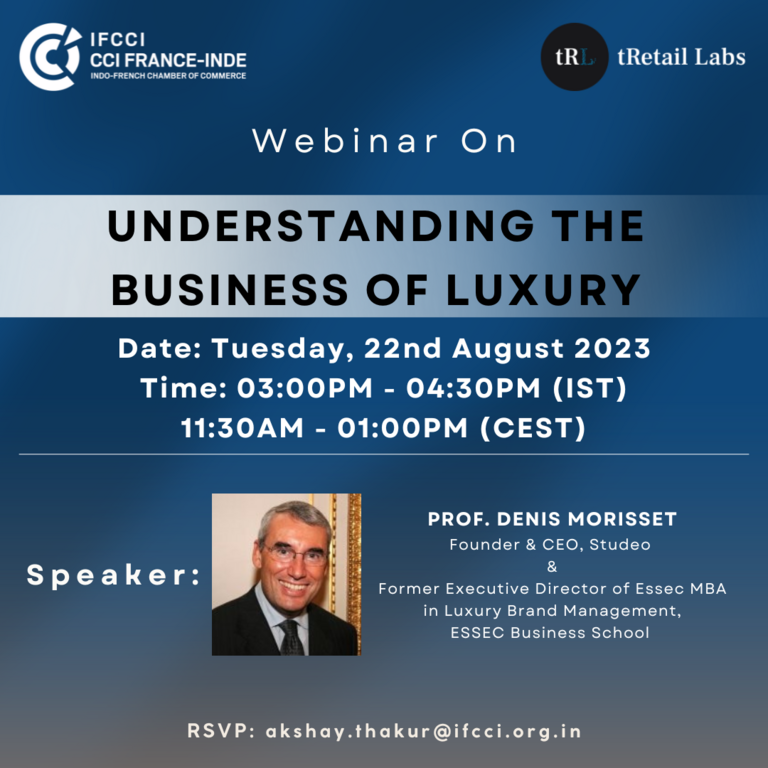 Indo-French Chamber of Commerce & Industry (IFCCI)
is organizing a
Webinar on
Understanding the Business of Luxury
as per the following schedule
Day & Date: Tuesday, 22nd August 2023
Time: 3:00 PM - 4:30 PM
Platform: Zoom Webinar
Objective:
Luxury brand management and luxury marketing is a school of discipline and excellence in terms of branding/marketing. Many learnings can be applied outside of the traditional luxury sector and help mass premium brands enhance their desirability. This webinar will explain how luxury brands have been able to create strong brand equity value by enhancing their cultural and artistic foundations, leverage on their heritage while innovating on tradition and remaining relevant to evolving consumer culture.
Points of Discussion:
Key foundations of luxury brand management and luxury marketing
How luxury brands are able to become unique in the minds of their fan consumers
Specificities of luxury brands story telling
How to find the right balance between exclusivity, accessibility and popularity.?
How to innovate on tradition?
Differentiating luxury from premium
Why & how luxury brands enhance lifestyle and experiential elements
Distribution business models & strategic importance of luxury retail
The webinar will be delivered by Prof. Denis Morisset in partnership with tRetail Labs. Prof Denis Morisset has worked 25 years in the luxury and fashion industry & occupied MD/COO positions for brands such as Ralph lauren, Pierre Balmain, Giorgio Armani. Since 2004, Denis started as 2nd career of luxury expert and marketing professor in Essec Business School in France. Since 2010, he shares his time between France & China and is also a visiting professor in several business schools in China.
Prior registration is mandatory | No Registration Fee
RSVP at akshay.thakur(@)ifcci.org.in
Looking forward to your participation!