Event report
Webinar: Fireside Chat on 'Racing from Survival to Revival during Covid'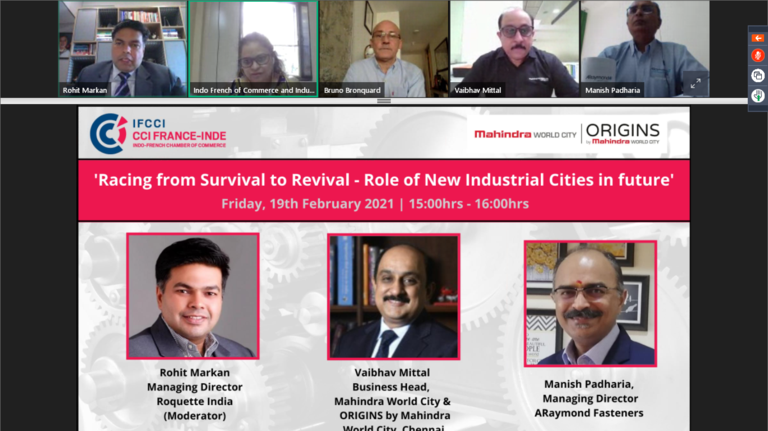 IFCCI organized a webinar on 'Racing from Survival to Revival during Covid' in association with Mahindra Woorld City, Chennai on 19th February 2021
Download a copy of this event coverage
The interactive session on Racing from Survivial to Revival during Covid began with Tracy Fernandes, Manager – Events & Membership, IFCCI welcoming the members and giving a small brief about the objective of the event. This was followed by welcome remarks of Mr. Bruno Bronquard, Regional Director (Western Region), IFCCI as he introduced the Moderator Mr. Rohit Markhan, Managing Director, Roqueette India Pvt Ltd and the panelists Mr. Vaibhav Mittal, Head Business Head, Mahindra World City and Origins by Mahindra World City, Chennai and Mr. Manish Padharia, Managing Director, ARaymond Fasteners India for this session.
Addressing in his keynote speech Mr. Rohit Markhan briefed participants about the current situation amidst COVID-19 its impact globally. He shared an overview on how to the trade and business was affected during the pandemic. However, by putting up a strong front, the organizations made tough comeback.
We then had with us the Panelists Mr. Vaibhav Mittal and Mr. Manish Padharia who shared their views through their expertise and knowledge.
Key highlights from the fireside chat:
Set up of new Industrial cities like MWC proved to be of great help during the pandemic
ARaymond being an automotive industry focused on extending their support without considering the profit as long as they were not making any loss.
Industrial clusters in India share the concept of planned urban development and bring in connectivity of work and life. It also invites global investments and sets a standard living experience.
Automotive industry moved from Survival to Revival as labour returned back to manufacturing units and plants.
The Government bodies and local authorities played a vital role as they approved and approached the E-passes system and helped win more business by being more local.
Tracy Fernandes shared the closing remarks while thanking the panel for such an informative and engaging session which concluded with an interactive Q&A Session.