Event report
PAN India : Webinar on Managing GDPR for companies in India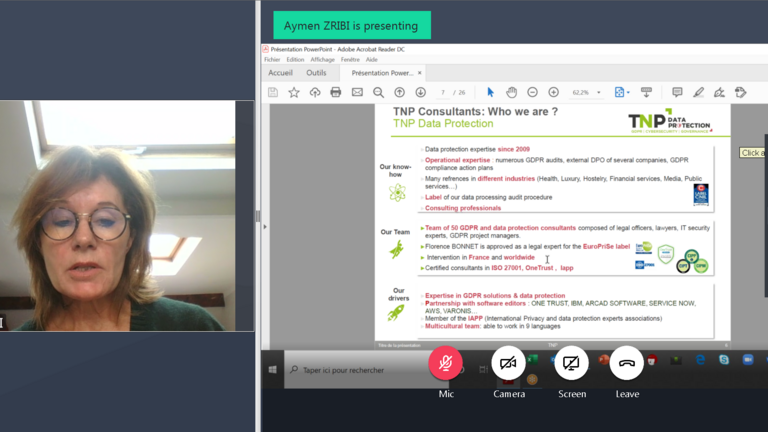 IFCCI organized a webinar on Managing GDPR for European Companies in India in association with TNP Consultancy on 5th May 2020
Download a copy of this event coverage
Ms. Tracy Fernandes, Manager, Events and Membership, IFCCI opened the Session with a welcome note to Ms. Florence Bonnet, Associate Director, TNP Consultancy and all the participants
Ms. Florence Bonnet, data protection expert, proceeded the session with introduction of TNP being a performance leader, French independent consulting firm and its role in Cyber security and data protection and risk compliance.
Her highlight was on GDPR being applicable to Personal data processing. While lawfulness, fairness, transparency, Purpose limitation, Data minimization, Accuracy, Storage period limitation and Security being the principles of GDPR
Ms. Bonnet then spoke of its impact on companies based in India stating its responsibilities on both data controllers and processors should be clear in contracts as "data protection agreement"
In India GDPR means an obligation to assure the security of personal data. It involves implementing appropriate technical and organizational measures to ensure a level of security appropriate to the risk.
Ms. Bonnet thus suggested companies must have a methodic and holistic approach as appropriate safeguards can be established by: standard data protection clauses, binding corporate rules (BCR), codes of conduct, certification mechanisms.
At last, she stated that making GDPR a business opportunity, a factor of trust with individuals and with your business partners and may help you mitigate enforcement action.
It was an insightful Session with over 40 participants joining the Session and involved an interactive Q&A Session
Mr. Bruno Bronquard, Regional Director, IFCCI, gave the vote of thanks and shared the past activities and upcoming webinars of IFCCI.