Event report • Webinar
IFCCI CGS & Retail Committee: Webinar on Sustainability in the Consumer Goods and Retail Sector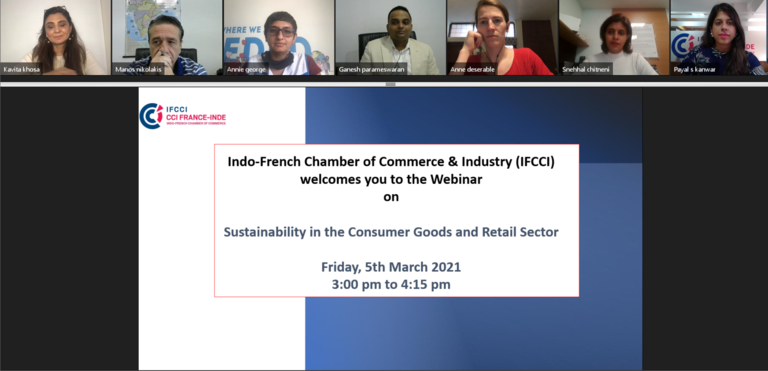 The IFCCI organized a Webinar on Sustainability in the Consumer Goods and Retail Sector on Friday, 5th March 2021
DOWNLOAD A COPY OF THE EVENT COVERAGE
Indo-French Chamber of Commerce and Industry, under the aegis of its Consumer Goods & Services and Retail Committees organized a Webinar on Sustainability in the Consumer Goods and Retail Sector on Friday, 5th March 2021. The objective of this Session was to discuss and deliberate on the measures being adopted and experiences of the companies in consumer goods and retail sector in their efforts to become more sustainable towards the environment and the benefits that they have been deriving from these practices. The session began with opening remarks by Ms. Payal Kanwar , Director General ,IFCCI welcoming all the participants and panellists for the day , which followed the welcome address by Mr. François Arpel , Chairman IFCCI Retail Committee.
Next, Founder of PUREEARTH , Ms. Kavita Khosa presented a Case study of her brand PUREEARTH , founded in 2011 which is a for profit organisation, working with the principles of equality, fair trade livelihoods and pay parity . Their motive is to engage with the source and ensure sustainability with luxury. The Green pot project by PUREEARTH in collaboration with Grassroots is one such project.
Another Case study was presented by Mr. Ganesh Parameswaran ,Director, Legal Council BIC Cello about the sustainability initiatives at their organisation. According to them, the business case for sustainability comprises of People, Prosperity and Planet. He emphasized on the fact that sustainability must be in sync with the business strategy which is the key to success. The organisation has also made some big commitments like renewal of French Business Pledge, 100% recyclable, compostable packaging by 2025, educating girl child and under privileged youth to name a few.
Further the panel discussion was opened , moderated by Ms. Anne Désérable, Director, Quantis France , the panellists present were namely :- Ms. Annie George, Sustainable Development Leader, Decathlon India and Ms. Snehhal Chitneni, Director - Communications, Sustainability & Public Affairs, L'Oréal India. The discussion revolved around what sustainability measures look like in their respective organisations . At L'Oréal India they have a motto of "Sharing beauty with all " and engage in all levels of production from designing to selling to imply sustainable practices .They aim to achieve Carbon neutrality by 2025 and by 2030 100% recyclable plastic packaging . At Decathlon , the purpose is to be useful to people and planet , they have happy community stances which consists of 5 categories of Sustainable components , lowering of CO2 emissions, water reduction and so on . They intend to eliminate plastic from packaging , moving to sustainable packing and urge their suppliers to move to renewable energy sources.
Likewise the key benefits for companies who're opting for green practices were discussed . Added value to brands, reduced Carbon taxes, competitive advantage were some to name a few. In brief strategies like Prioritising challenges, Cooperation and collaboration with agencies and institutions, creation of ecosystem that facilitates green practices and consumer awareness can go a long way and deliver success in this domain.
The Q&A session mainly focused on the financial challenges that impede adoption of sustainable practices. The session ended with conclusion remarks from Mr. Manos Nikolakis​ Vice-Chairman, IFCCI Consumer Goods & Services Committee​ .