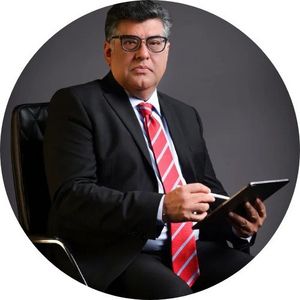 -Satish Kishanchandani - Managing Partner, Pioneer Legal
What are the business and investment opportunities you see between India and France?
There are several sectors in which India and France can collaborate and mutually benefit with the exchange of technology and past experience. Pharma, healthcare, and the automotive sectors would be the most prominent opportunities. However, there are other sectors such as technology, media and entertainment where we see synergies as well.
What have been the biggest accomplishments of your company in the last few years?
a) Key Accolades:
Awarded "India Law Firm of the Year" by Women in Business Law Awards 2022.
Awarded "Top Law Firm" (Below 10 years' experience) for White Collar Crime, Litigation, PE&VC, M&A, and JV by Forbes India Legal Powerlist 2022.
Ranked in Band – 2 for Corporate/ M&A (Highly Regarded) by Chambers and Partners (Asia-Pacific & Global) 2022 to 2023.
Ranked No. 12 by deal count (Announced Deals- India) in the Bloomberg M&A League Table 2021.
Ranked No. 20 by deal value and deal count in the Venture Intelligence M&A League Tables 2021.
Recognized as an "Asia Employer of Choice" by Asian Legal Business, 2021 to 2023.
Recognized as a "Firm to Watch" (India) by Asian Legal Business, 2020, 2021, and 2023.
Ranked in the "Top 50 Indian Law Firms" in the RSG India Report 2019, making a debut in the very first year of its inception.
Awarded Deal of the Year 2020 by India Business Law Journal for Sumitomo lists in India after the reverse merger.
b) We are signatories with the Green Impact Group, an initiative by The Grey Matter focusing on environmental sustainability. As part of our participation in GIG, we are taking steps to reduce waste and conserve resources, ultimately reducing our collective carbon footprint.
The recyclables collected are segregated into different categories like paper, plastic, metal, and glass and further segregated into sub-categories within each. They are treated and pre-processed by baling, shredding, or cleaning. They are further dispatched to be recycled, reused, or repurposed. The new recycled and repurposed products are circled back into the economy. The funds collected by our waste recycling are being donated to worthy NGOs listed with the recyclers.
c) Pioneer Legal is the first and (to our knowledge) the only firm in India with an enacted Diversity and Inclusiveness Policy which has been published on our website. The entire Firm is committed to strictly following the ethos set out in our Diversity and Inclusiveness Policy. You can access the diversity and inclusion policy: pioneerlegal.com/wp-content/uploads/2022/07/Diversity-and-Inclusiveness-at-Pioneer-Legal79643-1.pdf which is enforced by HR to ensure diversity is maintained at the firm.
d) Inclusion of pro bono work and diversity in approach: We have a quarterly give back initiative which is compulsory for all individuals. A part of the appraisal process includes judging individuals on the basis of whether they are utilizing non chargeable hours for pro bono and social justice causes to ensure stronger compliance and meaningful contribution. The quarterly give back initiative mandates all individuals participate in social causes including cleaning beaches, visiting orphanages which helps create social awareness. Non chargeable hours are used to provide pro bono assistance to the needy in association with Trust Law. We have committed to diversity, when it comes to our external vendors as well. In this regard, we have a tie up with local women from NGOs who provide the firm with evening snacks in order to help their economic situation.
How has IFCCI added value to your organization in India? Would you recommend other companies to join IFCCI as a member?
IFCCI is a great place to meet like-minded people who are looking for fresh ideas to grow their businesses. It is also a great way to develop networks between businesses in India and overseas in France and other countries in Europe. Would definitely recommend IFFCI to others as well.