Sanjay GOEL, Director & CEO, South Asia & Company Introduction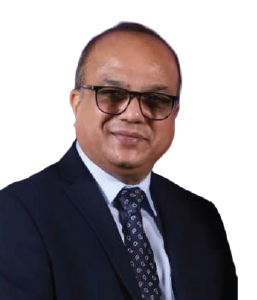 Sanjay GOEL is the CEO of South Asia at Bolloré Logistics. He is responsible for overseeing and managing the operations and strategic initiatives of Bolloré Logistics in the South Asia region (India, Bangladesh & Sri Lanka). With his extensive experience in the logistics and supply chain industry, he has played a vital role in developing and executing the company's business strategies, fostering key partnerships, and ensuring operational excellence. His leadership and strategic vision contribute to Bolloré Logistics' success in providing comprehensive logistics solutions and services to its clients in South Asia.
As a leader in global supply chain management, Bolloré Logistics India offers a wide range of international freight forwarding services from supply chain solution design & integration to a full range of multimodal transport (road, rail, air, and sea freight FCL/LCL), including our own LCL product from Mumbai, Chennai, and logistics services such as warehousing, order preparation, supply, and distribution centers. Bolloré Logistics India provides quality services to local and global key sector players, such as Healthcare, Aid & Relief, Automotive, Industrial Projects, Aerospace industries, Defense, Fashion & Retail, and other General Cargo as well.
What are the business and investment opportunities you see between India and France?
There are several business and investment opportunities between India and France due to strong economic ties, complementarity in industries, and growing bilateral cooperation. Both India and France have thriving technology and innovative ecosystems. India and France have been making significant investments in infrastructure development and trade facilitation measures. India's rapidly expanding e-commerce market and the need for streamlined logistics operations provide opportunities for French companies to invest in state-of-the-art facilities, technology, and supply chain management solutions. The logistics sector is increasingly adopting digital technologies such as IoT, blockchain, and data analytics. Partnerships between Indian and French companies can explore opportunities to develop and implement innovative logistics solutions that improve efficiency, visibility, and traceability across the supply chain.
What are some of the key challenges faced by your industry in the Indian market as well as by your company specifically? Can you describe some of the strategies you've implemented to overcome these challenges?
Freight forwarding companies in the Indian market face several challenges that can impact their operations and profitability. Some of the key challenges include infrastructure constraints, complex regulatory environments, limited technology adoption, fragmented market and competition, skill shortage, and security and safety concerns. Navigating these challenges requires a proactive approach, strategic planning, and adaptability. Engaging with industry associations, leveraging technology solutions, building strong relationships with key stakeholders, and staying updated on regulatory changes are some of the strategies implemented to overcome these challenges.
What have been the biggest accomplishments of your company in the last few years?
Bolloré Logistics has been successful in expanding its global network and strengthening its presence in various regions. The company has been actively expanding its footprints in emerging markets by opening new offices and strategic partnerships allowing it to offer comprehensive logistics services in these regions. We have placed a strong emphasis on sustainability and environmental responsibility. Bolloré Logistics has undertaken several initiatives to reduce its carbon footprint and promote eco-friendly practices in the logistics industry. This includes investing in alternative energy solutions, implementing green transportation methods, and promoting sustainable supply chain practices. The company has also been investing in technological advancements to enhance its operations and provide innovative solutions to its customers. We have developed digital platforms, data analytics tools, and automation technologies to improve efficiency, visibility, and traceability across the supply chain. The awards and accolades received by the company in recent years recognizing its excellence in the logistics industry highlight the commitment to customer services, operational efficiency, sustainability, and innovative practices.
How has IFCCI added value to your organization in India? Would you recommend other companies to join IFCCI as members?
Indo-French Chamber of Commerce has added immense value to Bolloré Logistics in India. It helped facilitate networking events, conferences, and industry-specific forums where our company could connect with other French and Indian companies within our community and beyond. The community includes French and Indian companies, the Governments of India and France, Embassies and Consulates, partners, and institutions. These opportunities led to fruitful collaborations, partnerships, and business growth. The Business Support services provided by IFCCI like market research, legal and regulatory guidance, and access to business resources helped to make informed decisions and overcome operational challenges.