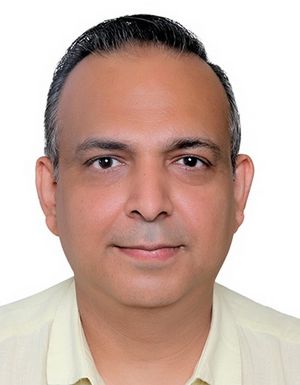 -Mr. Dinesh Puri, CEO, ROBINSONS CARGO & LOGISTICS PRIVATE LIMITED.
Self and Company Introduction.
Robinsons Cargo and Logistics is a leading name in the forwarding and logistics community in India. With 69 years of experience, we offer comprehensive end-to-end solutions, prioritize accuracy, and ensure timely delivery. Our expanded operations, advanced technology integration, and diverse service portfolio cater to evolving customer needs. We are committed to customer satisfaction, with a track record of positive feedback and long-term partnerships. Our resilience during the COVID-19 pandemic and dedication to sustainability demonstrates our unwavering commitment. Through strategic networking, we connect with potential clients, partners, and suppliers, driving business growth and expansion. We are known for our innovative, reliable, and customer-centric logistics solutions.
I am Dinesh Puri, CEO of Robinsons Cargo and Logistics, with an extensive background in the forwarding and logistics industry spanning over 33 years. I have had the privilege of working with Air France, Jet Airways, Singapore Airlines, AFL, Kintetsu World Express (KWE), Geodis, and Continental Carriers. Additionally, I have been involved in three successful start-ups, further expanding my expertise in the field.
Together with our dedicated team, my primary focus is on driving the growth and success of Robinsons Cargo and Logistics. We are unwavering in our commitment to upholding our core values of integrity, reliability, and service excellence.
What are the business and investment opportunities you see between India and France?
Defence, Space exploration and Security: India and France are already close partners in defense with a further potential for cooperation in areas such as aerospace, naval systems, and land systems. The "Make in India" initiative of our country aims to promote domestic manufacturing and attract foreign investments. In line with this initiative, French companies renowned for their expertise in sectors like aerospace, defense equipment, and automobiles can explore joint ventures, technology transfer, and manufacturing partnerships with Indian firms.
Information Technology (IT) and Digital Services: India has a thriving IT industry, known for its software development, IT services, and skilled workforce. French companies can explore partnerships with Indian IT firms to leverage their expertise in areas such as software development, digital transformation, cybersecurity, and data analytics. Additionally, Indian IT companies can offer cost-effective solutions to French businesses seeking to outsource their IT requirements.
Renewable Energy and sustainability: Both India and France have a strong focus on renewable energy sources and sustainability. France has advanced technologies and expertise in areas such as solar, wind, and nuclear energy. India, on the other hand, has ambitious renewable energy goals and offers a vast market for clean energy solutions. Collaborations in renewable energy projects, technology transfer, and joint ventures can be mutually beneficial for both countries.
Pharmaceuticals and Healthcare: India has a robust pharmaceutical industry and is known as the "pharmacy of the world." French pharmaceutical companies can collaborate with Indian counterparts for the research, development, manufacturing, and marketing of drugs. India also offers a large market for medical devices and telemedicine solutions, where French companies can provide innovative technologies and expertise.
Infrastructure Development: India has been investing heavily in infrastructure development across various sectors, including transportation, smart cities, and industrial corridors. French companies, with their expertise in sectors like urban planning, transportation, construction, and engineering, can participate in infrastructure projects in India. Opportunities exist in areas such as metro rail, airports, highways, and waste management.
Tourism and Hospitality: Both India and France are popular tourist destinations. Collaboration in the tourism and hospitality sector can involve sharing best practices, joint marketing initiatives, and investments in hotels, resorts, and tourist infrastructure. Promoting cultural exchanges and tourism packages can further enhance bilateral ties.
Startups and Innovation: Both India and France have vibrant startup ecosystems, fostering entrepreneurship and innovation. Collaboration between Indian and French startups can lead to knowledge exchange, technology transfer, and joint ventures in various sectors such as fintech, e-commerce, agro-tech, health-tech, and smart city solutions.
What are some of the key challenges faced by your industry in the Indian market as well as by your company specifically? Can you describe some of the strategies you've implemented to overcome these challenges?
Logistics companies like us operating in India face several challenges, which impact operations and profitability. Here are some key challenges:
Infrastructure: India's logistics sector is hindered by inadequate and underdeveloped infrastructure, inefficient transportation networks, and congested ports which often lead to delays, increased costs, and lower efficiency.
Complex Regulatory Environment: India has a complex regulatory environment with multiple government agencies and compliance requirements. Logistics companies like Robinsons Cargo and Logistics have to navigate through various permits, licenses, and documentation procedures, which are often time-consuming and cumbersome. Inconsistent implementation of regulations across different states adds to the complexity.
Inefficient Supply Chain: The Indian logistics industry often faces challenges related to supply chain inefficiencies, such as fragmented warehousing and distribution networks, inventory management issues, and suboptimal route planning. These factors can result in longer lead times, increased inventory carrying costs, and higher operational expenses.
High Transportation Costs: The cost of transportation in India is relatively high due to factors such as toll charges, fuel prices, vehicle maintenance, and state-level taxes. Further, being an unregulated sector with a large number of small operators combined with inefficient logistics infrastructure and congested roads leads to increased transit times, higher variable/unforeseen charges, and unstable service commitments impacting the overall cost-effectiveness of transportation services.
Skill Gap and Manpower Shortage: The logistics industry in India faces a shortage of skilled manpower, particularly in areas like supply chain management, technology adoption, and logistics operations. Finding and retaining trained personnel can be challenging, which can affect service quality and operational efficiency.
Technology Adoption: While there is growing adoption of technology in the Indian logistics sector, there is still a significant digital divide. Many logistics companies, especially small and medium-sized enterprises (SMEs), struggle with limited access to advanced logistics management systems, track-and-trace technologies, and real-time visibility solutions. Lack of technology integration can lead to information gaps, inefficiencies, and reduced competitiveness.
Inconsistent Tax Structure: The complex tax structure in India, with multiple taxes and levies at central and state levels, can pose challenges for logistics companies. Compliance with tax regulations, including Goods and Services Tax (GST), can be complex and time-consuming. Frequent changes in tax policies and rates can further add to the compliance burden.
Despite these challenges, the logistics sector in India is witnessing significant growth and improvement. The government of India has recognized the importance of logistics infrastructure and is implementing various initiatives such as the development of dedicated freight corridors, improvement of port and airport infrastructure, and simplification of regulatory processes to address these challenges and create a more favorable business environment for logistics companies. The Gati Shakti plan aims to achieve various targets for infrastructure development in India. The national highway network will be expanded to increase the capacity of roadways and touch the 2 lakh-km mark. The plan envisions the creation of around 200 new airports, heliports, and water aerodromes to boost aviation.
Robinsons Cargo and Logistics has been able to improve operational efficiency and competitiveness by
Investing in Technology: We have established back-offices to leverage technology, adopted a paperless office, and implemented logistics management systems, transportation management systems (TMS), and warehouse management systems (WMS), we are continuously working on technology to improve visibility for our customers and partners. Further, we utilize data analytics and automation to make informed decisions, improving resource allocation and reducing costs.
Enhancing Warehousing Infrastructure: RFID tagging, barcode scanning, and automated inventory tracking.
Focus on Skill Development: We heavily Invest in training and upskilling programs for our employees to bridge the skill gap. Provide training in technology adoption and operational best practices. Retaining skilled employees through incentives and career development opportunities.
Adopting Sustainable Practices: RCL has embraced sustainability initiatives to reduce costs and improve environmental credentials. We are paperless, our records are digitalized we adopt eco-friendly practices in our workplace, and are an environmentally responsible logistics service provider.
By adopting these strategies, RCL has been able to overcome challenges, improve its competitive edge, and capitalize on the opportunities offered by the market. We have been successful in assessing the specific needs and goals of our customers and offer tailor-made solutions.
What have been the biggest accomplishments of your company in the last few years?
Robinsons Cargo and Logistics is a reputable 69-year-old Indian organization, renowned in the forwarding and logistics industry. Over the years, they have consistently evolved and achieved significant milestones. Here are some notable accomplishments they have attained in recent times:
Luxury Vertical (Watches and Accessories): In this luxury vertical, Robinsons Cargo and Logistics has experienced substantial growth by providing end-to-end solutions to customers, ensuring 100% accuracy and on-time delivery.
Expansion: We have successfully expanded our operations and strengthened our presence by opening new offices. This strategic expansion has allowed us to offer a broader range of logistics services to our customers. We like to be geographically near our customers' business cities, facilitating more efficient and effective service delivery.
Enhanced Technology Integration: To enhance operational efficiency and customer service, we have made significant investments in advanced technologies. We have embraced paperless practices, reducing reliance on physical documentation. Additionally, we have prioritized API integration, fostering seamless communication and collaboration with customers and partners on a global scale. These technological advancements have contributed to streamlined operations and helped us improve our service quality.
Improved Service Offerings: To meet the changing demands of customers, Robinsons Cargo and Logistics has diversified and expanded its service portfolio. As an example, we can provide door-to-door freight services to Singapore and Dubai within a remarkable 24-hour timeframe, providing bulk suppliers with an alternative to the courier mode.
Customer Satisfaction and Recognition: Robinsons Cargo and Logistics have achieved a significant milestone by consistently delivering high-quality services and ensuring customer satisfaction. Our commitment to excellence has garnered positive feedback from our customers and business partners, solidifying long-term partnerships. This accomplishment showcases our dedication to providing reliable and top-notch logistics solutions and building trust and loyalty among our valued customers.
COVID: During the challenging period of the pandemic and lockdown, Robinsons Cargo and Logistics demonstrated an unwavering dedication to meeting the needs of their overseas agents and their customers. We provided essential services to numerous World Associations responsible for managing Aid and Relief efforts worldwide. Despite the significant transportation disruptions caused by the Covid-19 pandemic, we successfully delivered seamless service, ensuring crucial supplies reached their destinations efficiently. Their tireless efforts and commitment to serving during such trying times exemplify their resilience and reliability as a logistics provider.
Sustainable Initiatives: Robinsons Cargo and Logistics has undertaken a range of initiatives aimed at reducing their carbon footprint, implementing eco-friendly practices, and supporting social causes. These actions highlight our strong commitment to corporate social responsibility. By implementing sustainable practices, we contribute to environmental preservation and highlight our effort to be an eco-conscious organization.
IFCCI added value to your organization in India?
As we have recently joined the Indo-French Chamber of Commerce and Industry (IFCCI) I can only share our expectations:
Business Networking: IFCCI can facilitate networking opportunities with its extensive network of member companies and key stakeholders in the Indian business community. I believe this will can help Robinsons Cargo and Logistics in establishing connections with potential clients, partners, and suppliers in India, leading to business growth and expansion.
Market Insights: IFCCI can provide market insights and intelligence on the French Companies in India or those planning to enter India. This includes information on market trends, regulatory updates, industry challenges, and emerging opportunities. Such insights can help Robinsons Cargo in making informed business decisions and devising effective strategies for operating in the Indian market.
Business Development Support: IFCCI can assist Robinsons Cargo in identifying business development opportunities in France and in India. This may involve participating in trade missions, meeting business delegations, or participation in industry-specific events and exhibitions. IFCCI's platform can/will help Robinsons showcase our services, connect with potential clients, and explore avenues for collaboration.
Sector-Specific Programs: IFCCI conducts various sector-specific programs, workshops, and seminars in collaboration with industry experts and stakeholders. Robinsons Cargo can benefit from participating in these programs to gain insights into specific aspects of the Indian logistics sector, such as supply chain management, warehousing, e-commerce logistics, and more.
Overall, by engaging with IFCCI, Robinsons Cargo can tap into its extensive network, knowledge resources, and support services to enhance its presence, strengthen its business operations, and explore growth opportunities in the Indian market.