IFCCI under the aegis of the IFCCI Consumer Goods & Services Committee is organizing an interactive session for Members Pan India.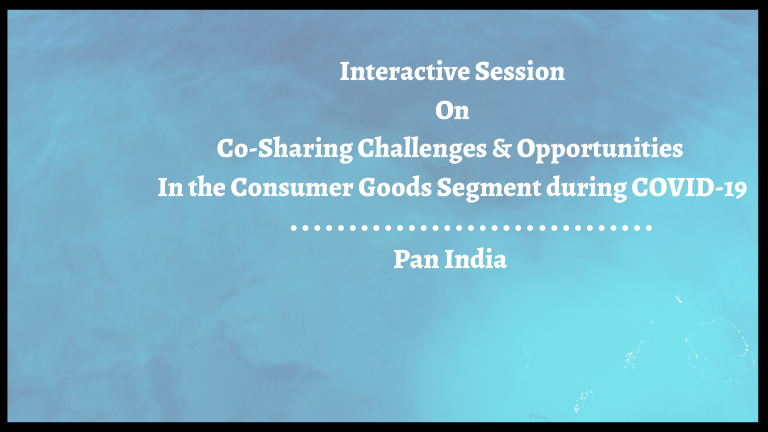 The Indo-French Chamber of Commerce and Industry,
is organizing an
Interactive Session on
Co-sharing Challenges and Opportunities in the Consumer Goods segment
during COVID-19
on
Tuesday, 19th May 2020
from 10:00 a.m. to 11:30 a.m.
Background
Even before the COVID-19 pandemic struck, companies in the consumer goods industry were experiencing intense competition, diverse customer preferences and the need for innovation in their strategies. Now in the midst of social and economic crisis, the industry is facing another set of challenges ranging from supply chain issues to logistical issues. While it is a challenging time, it also opens up opportunities for the consumer goods market and it is the opportune time for the Industry to share their best practices in these times.
Discussion Points
What are the 3 challenges faced by companies, customers and other stakeholders in these times
What innovation or paradigm change initiatives/ best practices companies are undertaking in trying to gain market share
Program
10:00 AM to 10:05 AM - Welcome Address by Ms. Payal S Kanwar, Director General, IFCCI
10:05 AM - 10:15 AM - Theme Address by Mr. Mohan Kumar, Chairman, IFCCI Consumer Goods & Services Committee
10:15 AM - 10:50 AM – Observations by :

Mr. Kazem Samandari, Executive Chairman, L'Opéra
Mr. Mohan Kumar, Executive Vice President & Whole time Director, Michelin India
Mr. Rohit Markan, Managing Director, Roquette India Pvt. Ltd.
Mr. Rishab Suresh, Co-Founder & CEO, The Gourmet Jar
Mr. Ganesh Parameswaran, General Counsel – MEA, India & APAC, BIC (Cello) India Pvt. Ltd.
Mr. Manoj Bhatija, Head Sales - Modern Retail and Wholesale, Celio Future Fashion Pvt. Ltd.

10:50 AM - 11:10 AM - Interactive Session and Q&A with Participants
11:10 AM to 11:15 AM - Vote of Thanks by IFCCI
Prior Registration is mandatory
The Webinar link will be shared upon receiving confirmation.
Looking forward to your confirmation!