IFCCI invites you for "CSR Activities Amidst COVID-19 Crisis: An Opportunity To Create Positive Impact"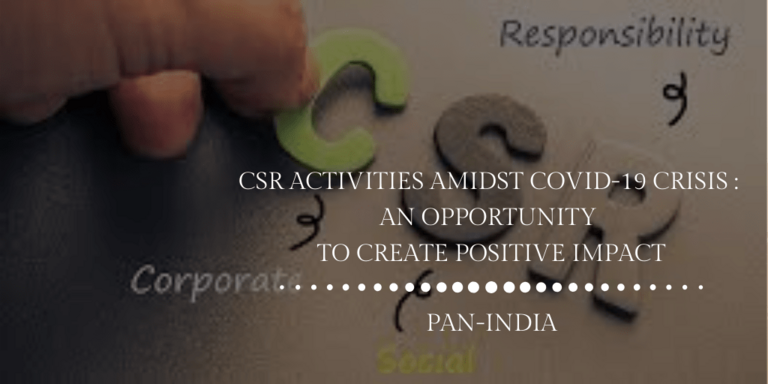 The Indo-French Chamber of Commerce and Industry (IFCCI) invites you for a Webinar on
CSR Activities Amidst COVID-19 Crisis: An Opportunity To Create Positive Impact.
Background
After almost 40 days of lockdown across India on account of COVID-19, both societies and businesses are facing a crisis. Given the important role of businesses within society and the unprecedented nature of this crisis, several businesses have stepped up to assist with the Indian Government's efforts to minimise the impact of Covid-19.
Overview of the Webinar
Key regulations governing CSR in India
CSR Initiatives and contributions by companies in the times of COVID that constitute eligible CSR activities
Tax implications of contributions / donations made by businesses and employees towards COVID-19 relief and challenges being faced by the business community in claiming input tax credit under the Goods and Services Tax (GST) laws in relation to goods distributed to discharge their CSR obligations
NGO Perspective
Program & Time
3:00 PM to 3:05 PM - Introductory Remarks by IFCCI
3:05 PM - 3:15 PM - Welcome Address by Ms. Payal S Kanwar, Director General, IFCCI
3:15 PM - 3:25 PM - Presentation by Mr. Delano Furtado, Partner - M&A, Joint Ventures and General Corporate Practice, Trilegal
3:25 PM - 3:35 PM - Legal Perspective by Mr. Himanshu Sinha, Partner -Tax Practice, Trilegal
3:35 PM - 4:05 PM. - Panel Discussion on Sharing of CSR Initiatives towards COVID-19 Relief
Panelists:
Mr. Hemant Gadgil, Executive Director, Dassault Systemes Foundation, India
Mr. Anurag Pratap, Digital Inclusion & Sustainability Leader, Capgemini India
4:05 PM - 4:25 PM - Interactive Session with Participants
4:25 PM to 4:30 PM - Vote of Thanks
--
We kindly request you to send RSVP: aarushi.gautam(@)ifcci.org.in
The webinar link will be shared upon receiving confirmation.
We look forward to your participation!