IFCCI in collaboration with PSA is organizing a Masterclass on POSH which aims to explain the challenges, fundamentals, rights & duties.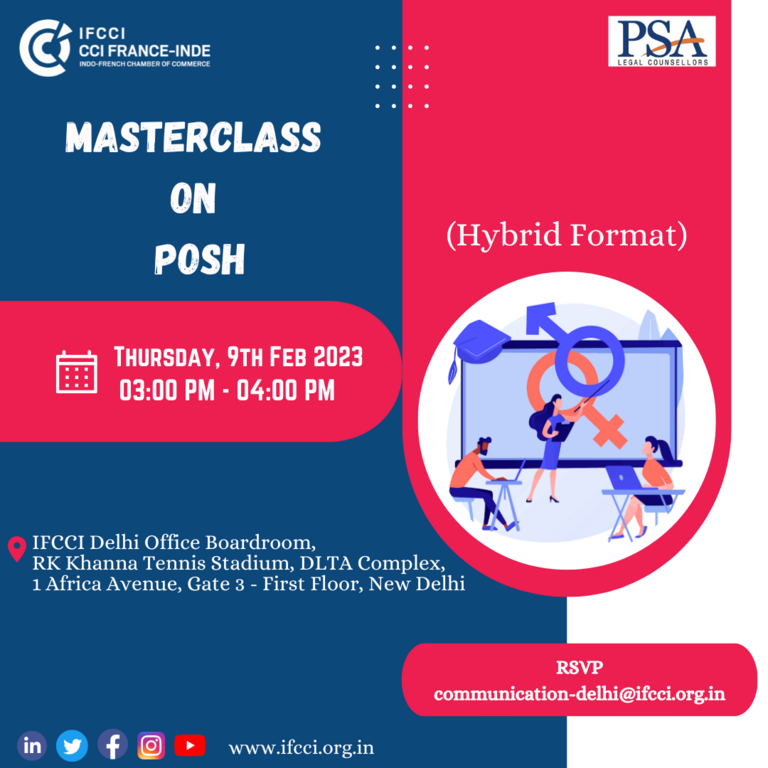 Indo-French Chamber of Commerce and Industry
in collaboration with Priti Suri & Associates
is conducting a Masterclass on POSH
on
9th February 2023 at 1500 hrs.
This Masterclass on POSH will aim to explain the fundamentals, combined with the nuances of conducting an investigation, parties rights and duties in the process, as well as hurdles on the path and what needs to be done to overcome them.
The term sexual harassment requires no definition. In the US, the famous testimony of Anita Hill catapulted the subject to the national and global stage. When companies realized the extent of the problem and the cascading legal and reputational damage, they knew they had to address it. And, that had a rippling effect in other countries too. In India, Sexual Harassment at Workplace (Prevention, Prohibition and Redressal) Act, colloquially POSH, was enacted in 2013. Thereafter, companies commenced mandatory training programs for employees to explain forbidden behaviors, complaint process and were obligated to put grievance procedures in place for reporting harassment and conducting inquiries. Even 9 years later, there is still dearth of awareness amongst the workforce and employers even on the fundamentals about creating and requirements of an anti-sexual harassment policy. Implementation, therefore, is a different challenge.
For more details on participation, please write to:
communication-delhi@ifcci.org.in
Looking forward to your participation!