Webinar • COVID-19 • Event report Supply chain • Industrie
Webinar: Panel Discussion on handling Global Disruption in Supply Chain in a Geopolitical Scenario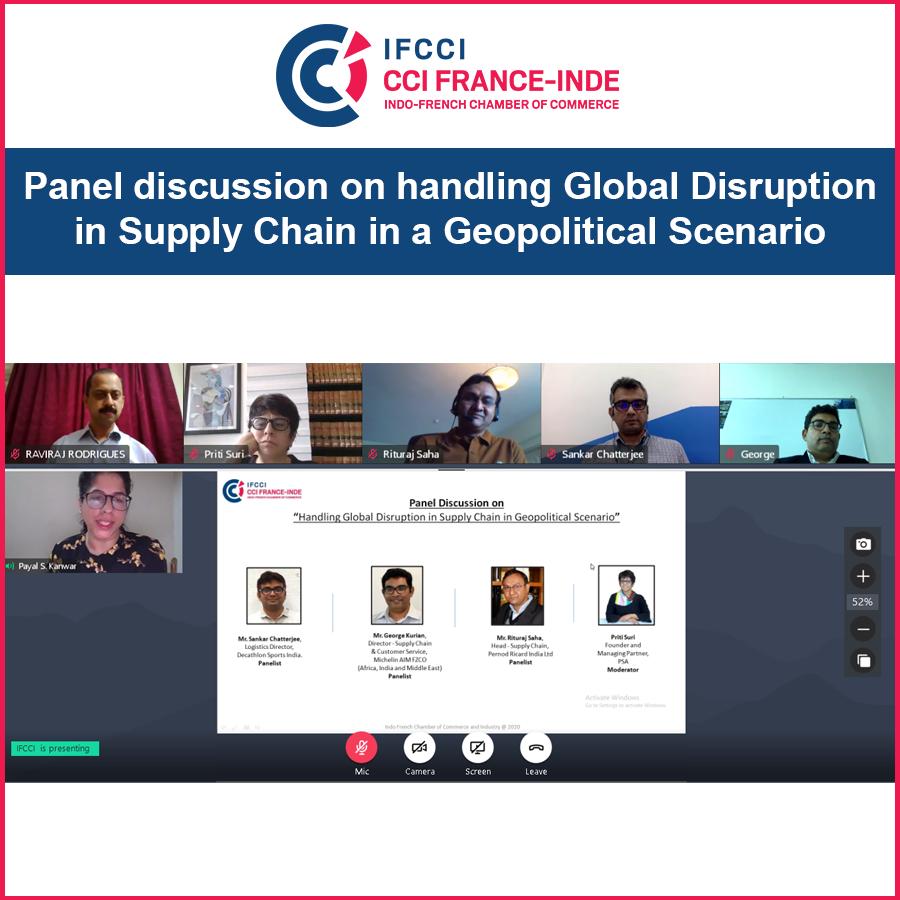 IFCCI Logistics and Maritime Committee organized a Panel discussion on handling Global Disruption in Supply Chain in a Geopolitical Scenario
IFCCI Logistics and Maritime Committee organized a Panel discussion on handling Global Disruption in Supply Chain in a Geopolitical Scenario on Wednesday, 5th August 2020 from 3 pm to 4 pm.
Ms. Payal S Kawar, Director General, IFCCI, opened the session by welcoming the new leadership of the IFCCI Logistics and Maritime Committee and underscored the relevance of having a discussion on supply chain given the uncertain background of Covid-19.
Mr. Vaibhav Vohra, Chairman, IFCCI Logistics Committee and MD, Continental Carriers, welcomed all the participants while highlighting the challenges the logistics industry is faced with. He talked about the existing supply chain structure and called for demarcation between being transparent and sharing trade secrets.
Mr. Raviraj Rodrigues, Vice Charman, IFCCI Logistics Committee and Director-Supply Chain, Alstom India gave the keynote address about the changing pattern of trade policies and acknowledged that Covid-19 has caused massive changes and huge disruptions which are expected to stay.
This was followed by an interesting and insightful Panel Discussion on Handling Global Disruption in Supply Chain in a Geopolitical Scenario, moderated by Ms. Priti Suri, Founder and Partner at PSA, who was in discussion with –
Mr. Sankar Chatterjee, Logistics Director, Decathlon Sports India
Mr. George Kurian - Director - Supply Chain & Customer Service, Michelin AIM FZCO (Africa, India and Middle East)
Mr. Rituraj Saha - Head - Supply Chain, Pernod Ricard India Ltd
Panelists discussed in detail the differences in the supply chain scenario before and after the pandemic. They also highlighted the changing trends in consumer behaviour. It was accepted that both the top line and bottom line have been severely impacted due to the uncertain environment. The need to move from global to local supply chains was also emphasized upon. All of them reiterated that it is imperative to find a balance between safety and business and then underscored that the well-being of key suppliers was all the more necessary to ensure business continuity. It was stated that the heightened use of technology is the need of the hour as that will ensure maximum safety and minimum cost. It was also indicated that the technology should be sustainable to ensure acceptability and reduce the carbon footprint.
Moving on, the role of IFCCI as a voice of the industry was also discussed. All the panellists applauded and acknowledged the efforts of the Chamber. They also proposed various initiatives including the establishment of excellence and innovation centre, industry to industry collaborations etc.
Capt. Ram Iyer, Vice Chairman, IFCCI Logistics Committee and VP Seahorse Shipping Agencies Pvt Ltd, delivered the vote of thanks and appreciated the efforts of the Chamber. He also described, in a nutshell, the main points of the discussion and upcoming initiatives of the committee for this year.
Ms. Tessy Simon, SPOC, IFCCI Logistics Committee and CRM project Manager and Accounts, thanked the Speakers for their insights and concluded the Session, which witnessed an attendance of nearly 60 participants.
Download a copy of this event coverage