Companies news
Rafale's Operational Induction 'Very Important Step' amid border tensions, Rajnath Singh says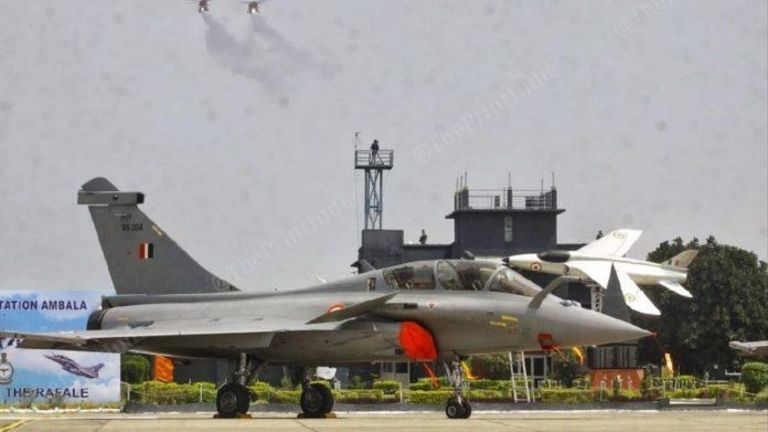 Rafale jets inducted into IAF at a ceremony in Ambala amid LAC tensions.Arrival in July, the fighters have flown in Leh and completed bombing practise
Ambala: The operational induction of Rafale into the Indian Air Force (IAF) is an "important step" in the wake of the border tensions, Defence Minister Rajnath Singh said Thursday in a reference to the ongoing crisis at the Line of Actual Control (LAC) with China.
Singh called it a strong message for the world, especially for those who challenge India's sovereignty.
On Thursday, the French-made Rafale jets were inducted into IAF's Squadron No. 17, also known as Golden Arrows, in Ambala, which is home to the first squadron of Rafale fighter jets.
"The induction is a very important step in light of the prevailing security conditions that prevail, or I would say, that have been created along India's borders," Singh said in an address to IAF personnel at the Ambala Air Station.
French Minister of Armed Forces Florence Parly and IAF chief Air Chief Marshal R.K.S. Bhadauria also attended the induction ceremony.
Singh said the IAF plays an important role in maintaining military deterrence and their actions will be decisive in any future war. "While the prevailing situation on our boundaries has caught our attention, we should not ignore the threat of cross-border terrorism," he added.
IAF chief Bhadauria said the Rafale aircraft can rapidly access all areas of interest due to its deployment.
"What we see is a result of decisive action by the government to break the impasse over the MMRCA deal. Today, the Rafale has been operationally inducted. We are good to go," he added.
Singh congratulated IAF personnel for the swift and decisive action taken by them near the LAC recently. He said the rapid deployment of IAF assets at forward bases created a trust that our Air Force is fully prepared to meet its operational obligations.
The defence minister reiterated the resolve of not compromising India's sovereignty and territorial integrity under any circumstances, and the country's determination to make all possible preparations for it.
"The intentions of military are as strong as it can be," he said.
Singh said strengthening India's defence is aimed at achieving international peace and stability, adding it does not want to take any step that can endanger international peace.
"We have the same expectation of our neighbours and other countries of the world."
Source : The Print
---