Webinar • Event report • Webinar
PAN India : Webinar on Covid-19 and Beyond: Navigating Top Five Concerns of Businesses
IFCCI organized a webinar on 'Covid-19 and Beyond: Navigating Top Five Concerns of Businesses' in association with PSA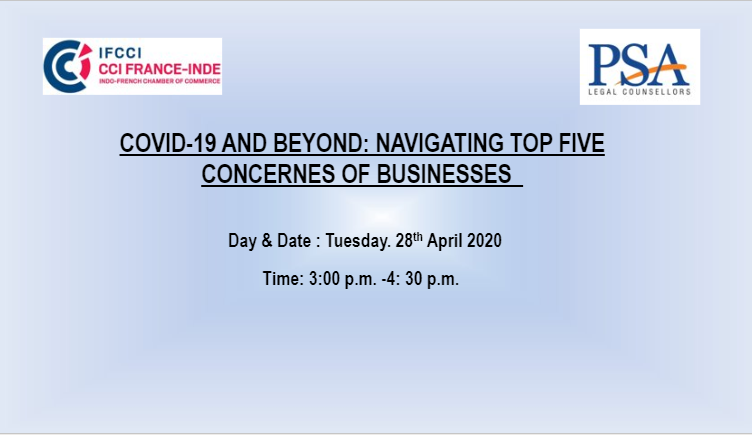 Download a copy of this event coverage
IFCCI, in association with PSA, organized a Webinar on Covid-19 and Beyond: Navigating Top Five Concerns of Businesses on Tuesday, 28th April 2020. The five concerns discussed in detail were: Contractual Considerations, Workforce Rationalization, Payment Collections, Demand/Supply issues and Data Privacy & Cyber security.
Ms. Payal S. Kanwar, Director General, IFCCI opened the Session and welcomed the participants followed by Keynote Address by Ms. Priti Suri, Founder and Managing Partner, PSA.
This was followed by an interesting Panel Discussion with panelists Ms. Smita Katiyar, Head of Legal and Governance, Alstom Transport and Mr. Sameer Chugh, Group General Counsel, Bharti Group and moderated by Ms. Priti Suri, Founder and Managing Partner, PSA.
The discussion commenced with all the speakers emphasising on the need to have in place Business Continuation Plans while adopting the new mantra of Relook, Rework, Change, Adopt & Execute. Moving forward, it was recognised that a relook of contracts was required with special attention being placed on material adverse change clause, health & safety requirements and people management. It was highlighted that communication should be done in a timely manner with all the stakeholders including the financial institutions. Additionally, importance was placed on clearly demarcating all government orders, notifications and advisories. Clause 56 of the Indian Contract Act dealing with impossibility of performance was also brought forth.
With respect to the financial position of organisations all Speakers agreed that MSMEs will be affected the most. They also cautioned against having knee-jerk reactions and predicted a change in the supply chain arrangements and HR policies along with having increased firewalling of the online systems.
The informative session was followed by an interactive Q&A round. The webinar was attended by over 70 participants.