Actualités
Govt Committed To Encourage Investment In The State: Goa CM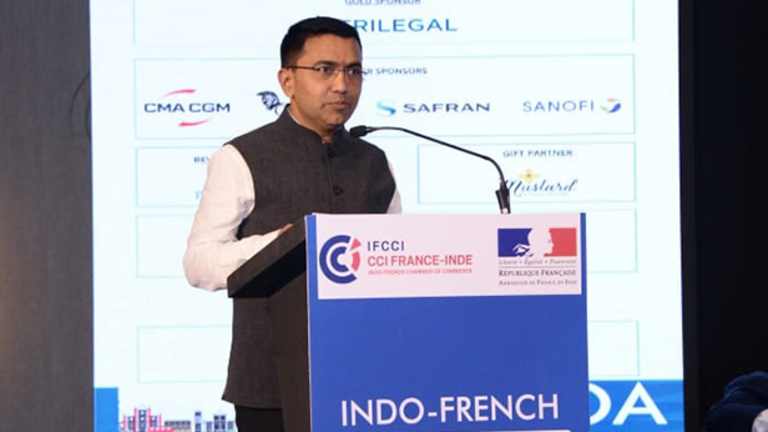 Goa Chief Minister Pramod Sawant has said that the state government has formulated investment friendly policies with the intention to encourage investment in industrial sector and the recent Vibrant Goa Summit is an example where in the government had signed MOUs with 17 countries of the world.
Speaking after inaugurating 2nd edition of Indo French Investment Conclave held at Candolim in North Goa on Friday, organized by Indo- French Chamber of Commerce and Industries in collaboration with CCI France-Inde on the theme 'Goa is best Investment Destination', the Chief Minister reiterated the government's commitment to attract investment in the state.
He said to attract investment the government had taken initiatives like developing better infrastructure, smart city development, construction of Mopa International Airport, 30 days clearance from Investment Promotion Board (IPB), setting-up of IT Hub, effective startup and industrial policy and quick response from regulators and the Government in this direction.
He assured that the French MNCs would realise that they had come to a favourable investment destination, a place where doing business would be mutually benefited. He appreciated the interest of the French Consulate and Indo French Chamber of Commerce and Industry in organizing the conference in Goa.
Union Mnister of State for Defence and AYUSH Shripad Naik said France was one of the pioneers in the aerospace and defence sector where as India was prioirity market.
The Indo French Chamber of Commerce and Industries was amongst India's most active bilateral business chambers whose 600 members comprise French and Indian companies from various sectors across India and France.
The conference with a strong focus on Aerospace and Defence to promote Goa as an important Hub in Aerospace and Defence was indeed a great initiative, he said.
Consul General of France in India Sonia Barbry said the main objective of the conclave was to encourage interaction between business communities and government institutions to increase bilateral business opportunities of investment in Goa.
She expressed happiness on the keen interest shown by the leading French and Indian companies for their mutual investment in Goa.
Lalit Saraswat, Chairman CII Goa State, Ravin Mirchandani, Chairman, Ador Powertron Ltd, Manu Bishnoi, Director, Technique Solaire, Delano Furtado, Senior Partner Trilegal, Ugo Vincent, Managing Director, CMA CGM, Jean Michael Casse, Chief Operating Officer, Frederic Prevost Allard, Operation Director OMEX and representatives of various Indian and French companies attended the conference.
Source - United News of India