IFCCI, in association with CRA & Associates, is organizing a Webinar on Recent Amendments in Preparation of Financial Statements and Changes in Audit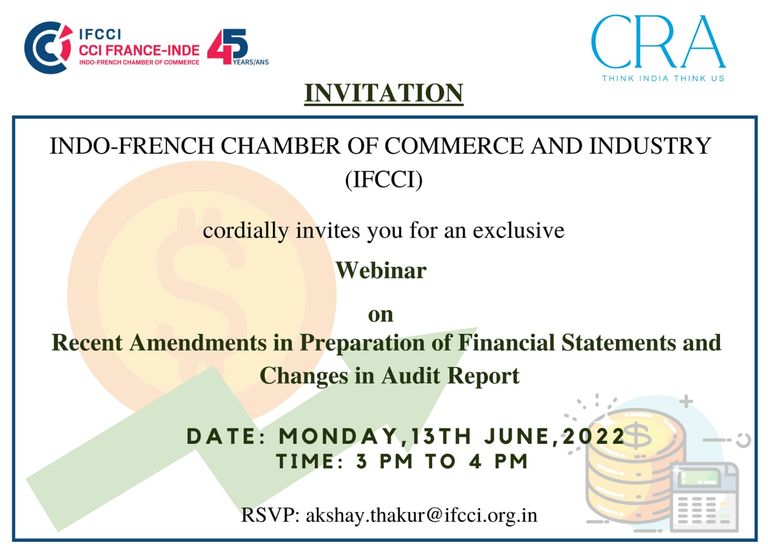 The Indo-French Chamber of Commerce and Industry (IFCCI), in association with CRA & Associates, is organizing a Webinar on Recent Amendments in Preparation of Financial Statements and Changes in Audit Report

The Ministry of Corporate Affairs (MCA) has made certain amendments in Schedule III of Companies Act 2013 (Act) wide notification on March 24, 2021 to enhance transparency and provide more disclosures to users of financial statements. These amendments are effective from 1 April 2021. Companies are required to provide significant information about the new clauses in financial statements. Also, MCA had issued the Companies (Auditor's Report) Order, 2020 (CARO 2020), which is also applicable for audit reports to be issued on or after 1 April 2021.
The objective of the Session is to discuss these recent amendments in preparation of financial statements and changes in audit report i.e. CARO 2020.
IFCCI is pleased to invite its members for this Session. Kindly send in your confirmations at akshay.thakur@ifcci.org.in
Open to CEOs, CFOs, Finance, Legal and Corporate Affairs Heads of Indian and French Companies

Joining link will be shared upon receiving confirmation.
Prior Registration is mandatory