IFCCI's Cross Committee Initiative: Webinar on Consumer Goods & Services Technology Committees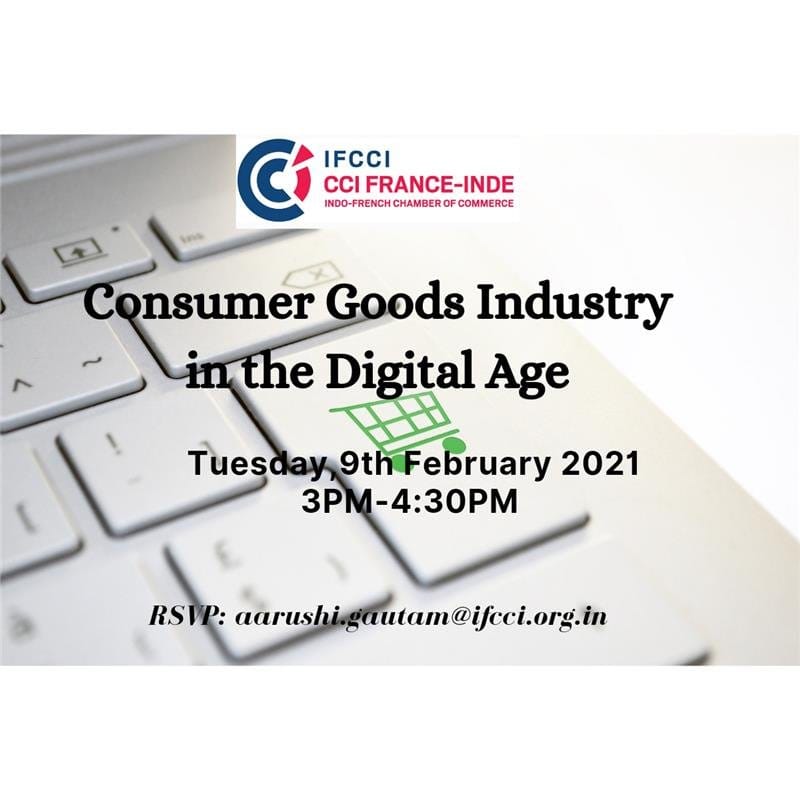 Indo-French Chamber of Commerce and Industry, under the aegis of its Consumer Goods & Services and Technology Committees, is organizing a Webinar on the Consumer Goods Industry in the Digital Age.
The global Consumer Goods and Services Industry have performed well in recent times, especially with digital transformation and technological innovation. The outbreak of Covid-19 has also redefined this industry and changed consumer behavior & preferences. Hence, it is imperative to look at how consumer goods companies are adapting to technological changes, changing business models, e-commerce and new growth avenues to reach the consumers.
The objective of the Session is to discuss and deliberate on digital transformation in this industry in the current times, understanding how consumer needs have shifted and how technology has played an important part in easing this shift.
Tentative program:
3:00 PM - Opening Remarks by IFCCI
3:05 PM - Welcome Address by Consumer Goods & Services Committee, IFCCI
3:10 PM - Special Remarks by Ms. Varda Taneja, Senior Assistant VP, Invest India
3:20 PM - Panel Discussion on the core topic
Mr. Dhayalan Pagalarajan, Cluster Leader - Analytics & Insights (Consumer Goods Delivery Head), Tata Consultancy Services

Mr. Rajesh Gopal, Chief Information officer, L'Oreal India

Mr. Sangamesh Bagali, Senior Director, CPRDT Sector (Consumer Products, Retail, Distribution & Transportation), Capgemini

Mr. Shashwat Goswami, Head, Grofers own Brand Marketing
4:10 PM - Interactive Session and Q&A with Participants
4:20 PM - Concluding Remarks by Technology Committee, IFCCI
Prior Registration is mandatory. No Participation Fee
In case of any difficulties during registration, kindly mail to
sanaya.sharma(@)ifcci.org.in or communication-bangalore(@)ifcci.org.in
For sponsorship opportunities - write to