IFCCI in association with Neoma Business School is organising a webinar and panel discussion on 'Careers in France'.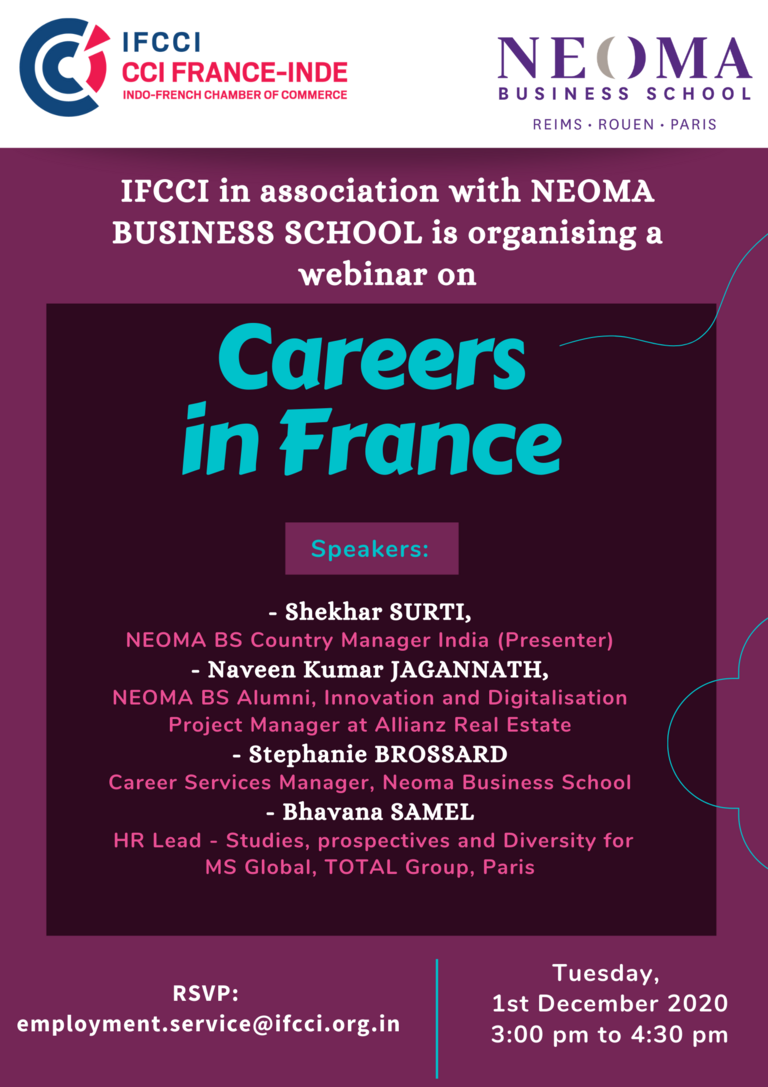 IFCCI in association with NEOMA BUSINESS SCHOOL is organising a Webinar
on
'CAREERS IN FRANCE'
on
Tuesday, 1st December 2020 from 3:00 pm to 4:30 pm.
Objective of the webinar:
The webinar will help the participants to know more about Careers in France including job prospects, work culture in France, language related concerns, information on stay back and visas, etc. We will also share details on Higher Education Programs offered by NEOMA BS and have an opportunity to interact with a NEOMA BS Alumni.
We will be covering the points as below during the webinar:
- France and its leadership in the global economy
- Why France as a career option
- Impact of COVID on existing and new job opportunities
- Does language become a barrier to work in France
- Work culture in France. How can international employees adapt to French environment?
- Opportunities for international candidates
- How to approach companies for job application? How to create an opportunity? (through Social Media, job portals, emails, etc.).
The panelists are as below:
- Shekhar Surti – NEOMA BS Country Manager India (Presenter)
- Naveen Kumar JAGANNATH – NEOMA BS Alumni - Innovation and Digitalisation Project Manager at Allianz Real Estate
- Stephanie Brossard- Career Services Manager from Neoma Business School
- Bhavana Samel- HR Lead- Studies, Prospectives and Diversity for MS Global- TOTAL Group, Paris
Date: Tuesday, December 1st 2020
Time: 3:00 PM to 4:30 PM
There is no registration fees.
RSVP: employment.service(@)ifcci.org.in
*Limited seats only
Prior registration mandatory
We look forward to your participation!