IFCCI is pleased to organize a webinar with GDA Consulting on the topic "A tryst with ESOPs (Employee Stock Option Plan)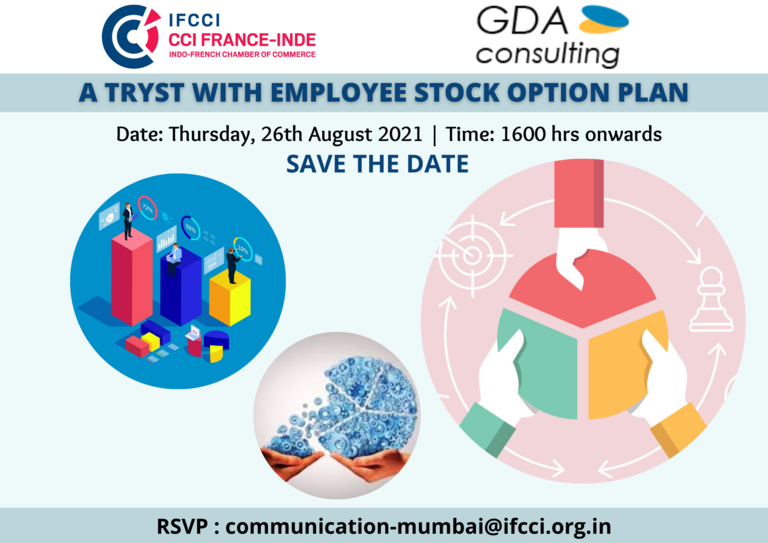 ESOP or Employee Stock Option Plan is the new buzzword in the compensation packages of the workforce in the market. It is an employee benefit plan that gives workers ownership interest in the company. Also, a primary tool for long-term retention. Organizations right from startups to Banking Companies have allotted ESOPs to their employees. They are no longer a privilege to the public sector and the private sector is steadily warming up to the concept.
In this presentation, we will introduce the concept of ESOPs, briefly discuss their types and key features. The presentation will highlight the benefits of offering stock options for the organizations, the regulatory aspects under the Companies Act 2013 and Taxation aspects under the Income Tax Act 1961. Last but not the least, we will also present the procedure to implement an ESOP scheme and pointers for making it a success.
Speakers: (Profile attached)
CA Ranjeet Kulkarni, Sr. Consultant, GDA Consulting
CA Kishor Karve, Manager, GDA Consulting
Details of the event:
Day and date: Thursday, 26th August 2021
Time: 4:00 – 5:30 PM
RSVP: Click Here
Request you to kindly RSVP your details to communication-mumbai@ifcci.org.in
Looking forward to your participation!