IFCCI in collaboration with Capximize India is pleased to organise a webinar on manufacturing capacities available in India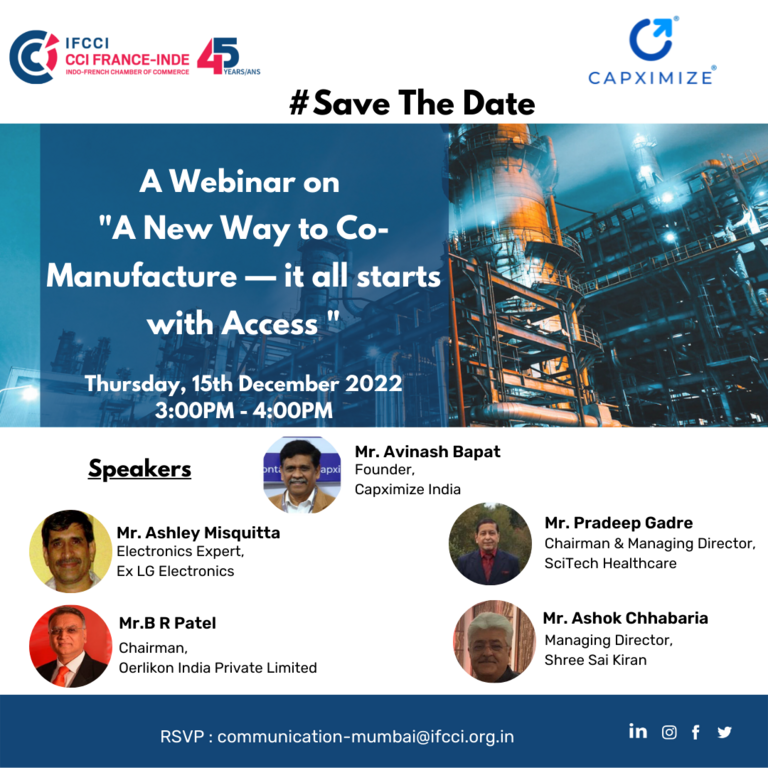 The objective of the session is to deliberate on the perspective of making surplus manufacturing capacities available in India, accessible to manufacturing companies across the Globe with a special focus on French companies.
About Capximize: A new way to Co manufacture
Capximize is a knowledge based global digital platform for surplus manufacturing capacities in India for the use by both domestic and global corporates. It uses a proprietary algorithm to make right recommendations
Sectors of expertise:
Pharmaceuticals
Auto components
Electronics
Textile
Chemicals
Speakers of the event:
Mr. Avinash Bapat, Founder, Capximize India
Mr. Pradeep Gadre, Chairman and Managing Director, SciTech Healthcare| Sector Expert Pharmaceuticals
Mr.B R Patel, Chairman, Oerlikon India Pvt Ltd (German Multinational) | Sector Expert Machinery
Mr. Ashley Misquitta | Sector Expert Electronics & Electricals
Mr. Ashok Chhabaria, Managing Director, Shree Sai Kiran | Sector Expert Textile
Details of the event:
Day & Date: Thursday, 15th December 2022
Time: 3:00 PM - 4:00 PM
Platform: Go To Webinar
Registration Link: Click Here
Kindly note: Prior Registration is mandatory | No Participation Fee
If you wish you participate, RSVP your details to communication-mumbai(@)ifcci.org.in
Looking forward to your participation!