IFCCI General Counsel Committee is organising a Session on Recent Developments in Indirect Taxes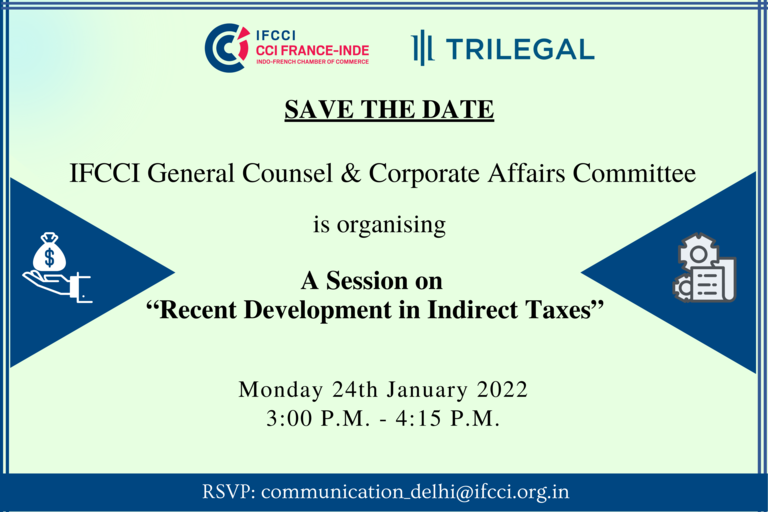 Indo-French Chamber of Commerce and Industry
is organising a
Session on
Recent Developments in Indirect Taxes
as per the following schedule
Monday, 24th January 2021
3 p.m. to 4:15 p.m.
Background:
There have been some significant developments in past few months in the indirect space such as the decision of the Supreme Court on inverted duty structure, clarifications issued by Central Government on the scope of intermediary services and distinct persons and introduction of RoDTEP Scheme.
Through this Session, Trilegal will analyse the impact of these developments as well as take up certain other issues that are likely to have far reaching impact on businesses. Furthermore, queries related to these issues will be specifically addressed and clarified in this Session.
Experts from Trilegal will share and discuss:-
Recent ruling of Supreme Court on inverted duty structure and its impact on industry at large;
Clarification issued by the Government on 'intermediary services' and 'distinct persons for the purpose of export of services;
GST and change in law clauses; and
Other important development in indirect tax.
Only for French and Indian companies
Prior Registration is mandatory
No Participation Fee
RSVP: sanaya.sharma(@)ifcci.org.in