IFCCI in association with FLAME University is organizing a Session on Powering Consumer Insights by leveraging Marketing Technologies on 26th May 2023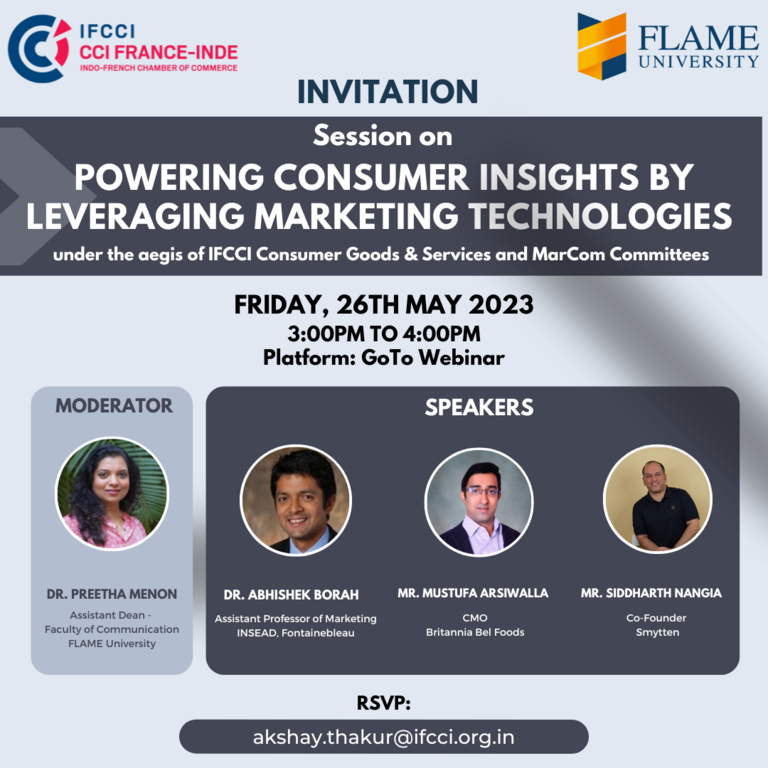 Indo-French Chamber of Commerce & Industry (IFCCI)
in association with FLAME University
is organizing
a Session on
Powering Consumer Insights by leveraging Marketing Technologies

as per the following schedule
Day & Date: Friday, 26th May 2023
Time: 3:00 p.m. to 4:00 p.m.
Platform: GoTo Webinar
Background:
In today's times, companies are in constant search for improving their current practices revolving around data usage for achieving their business goals. MarTech tools help in collecting, organizing and analysing vast amount of consumer data from various digital sources. Consumer insights gained from such exercises can lead to personalization and profiling of the audience in efficient and effective ways across paid, owned and earned media.
This session brings together seasoned practitioners and eminent academicians in the space of marketing technologies and experts from the Consumer Goods and Services Industry to discuss and deliberate on current practices, challenges and opportunities related to powering consumer insights by leveraging MarTech.
Prior registration is mandatory | No Registration Fee
Register at Registration (gotowebinar.com)
or RSVP at akshay.thakur(@)ifcci.org.in
Looking forward to your participation!