IFCCI in association with Kochhar & Co. is organizing a Hybrid Session on New Foreign Trade Policy on 3rd May 2023.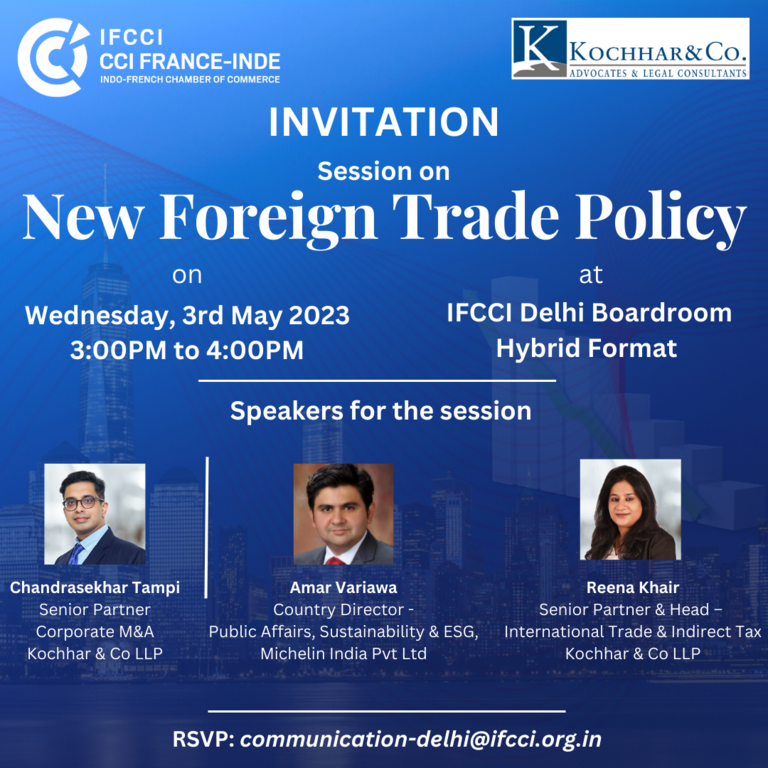 Indo-French Chamber of Commerce & Industry (IFCCI)
in association with Kochhar & Co
is organizing a
Hybrid Session
on
New Foreign Trade Policy

as per the following schedule
Day & Date: Wednesday, 3rd May 2023
Time: 3:00 PM to 4:00 PM
Venue: IFCCI Delhi Office Boardroom
Hybrid Format

Background:
The recently announced Foreign Trade Policy (FTP), 2023 by the Ministry of Commerce, Government of India, will be the first Foreign Policy, which will remain in force indefinitely, unless is specifically amended or modified.
The focus in the Policy is on Improvement in the Ease of Doing Business through reduction in transaction cost and time, a paperless regulatory environment, a transparent and predictable legal regime and an improved investment climate through better infrastructure.
Other focus areas include :
promotion of exports by remission of duties and taxes on exports

impetus to emerging areas like dual use high end technology items under SCOMET,

facilitating e-commerce export,

collaborating with States and Districts for export promotion.

a one-time Amnesty Scheme for exporters to close the old pending authorizations and start afresh.

Streamlining SCOMET Policy,

Integration of Courier and Postal exports with ICEGATE to enable exporters to claim benefits under FTP

Changes in the policy relating to imports and exports

Prior registration is mandatory

Register at akshay.thakur(@)ifcci.org.in
Looking forward to your participation!