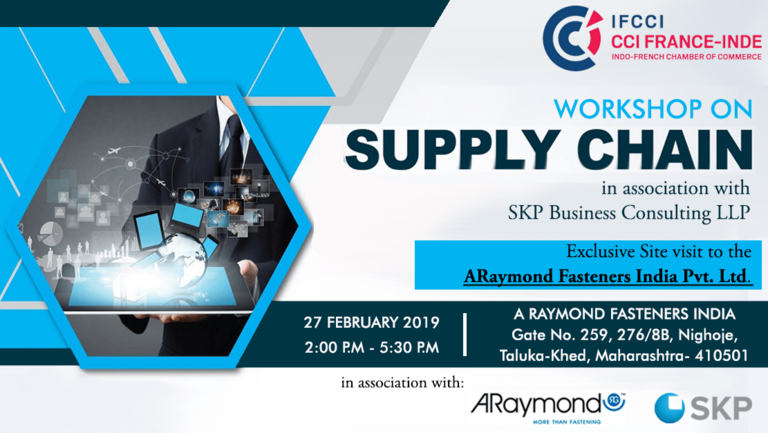 The Indo-French Chamber of Commerce and Industry (IFCCI) in association with SKP Business Consulting LLP and A Raymond Fasteners India Pvt. Ltd. is organising a workshop on Supply Chain Management followed by a site visit to the A Raymond Fasteners India Pvt. Ltd. factory.
Supply Chain Management (SCM): SCM is an integral part of most businesses, whether small or large. It is the active management of supply chain activities to maximize customer value and achieve a sustainable competitive advantage. SCM also deals with the movement and storing of materials needed to create a product, as well as inventory management, and keeping track of finished goods from where they were created to who they go to.
ARaymond: A French industrial limited partnership with International dimension, created in 1865, which manufactures and offers products for fixing in the fields of automotive, health, agriculture, renewable energies and industry. Almost all International car manufacturers are its customers. ARaymond Network is an International leader in assembly expertise by clipping & bonding and fluid connection.
Keynote Speaker: Mr. Satish Sawant, Director - Business Advisory (SKP Business Consulting LLP). To know more about the speaker, click here.
---
Date: Wednesday, 27th February 2019
Time: 2:00 pm – 5:30 pm
Venue: ARaymond Fasteners India Pvt. Ltd. Factory, Gate No. 259, 276/8B, Nighoje, Taluka-Khed, Maharashtra 410501
---
To register for the event: RSVP to tracy.fernandes(@)ifcci.org.in or call at (022) 67 47 97 66
*Please note that registration is Mandatory