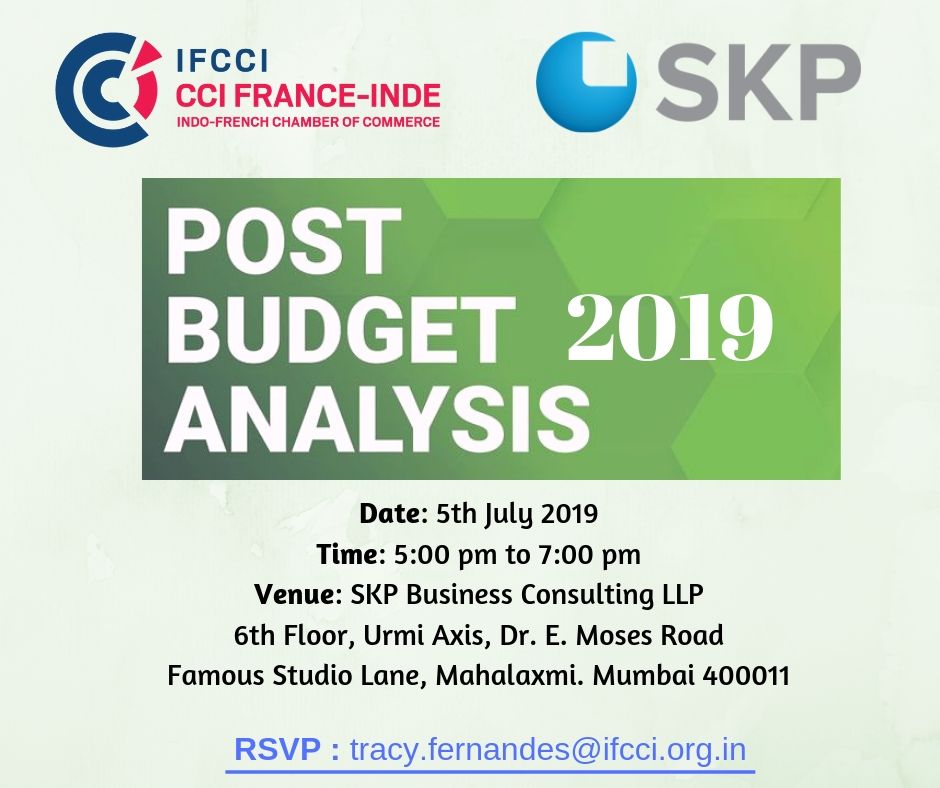 The Indo-French Chamber of Commerce and Industry in association with SKP Business Consulting LLP is organising a Post Budget Analysis in Mumbai on 5th July 2019.
After the astounding success in LokSabha elections 2019, the newly appointed Finance Minister,MsNirmalaSitharaman prepares to present her maiden budget on the 5th of July 2019. There is a growing expectation from the new government to announce a budget that will put India on a trajectory of growth and development.
The tax specialists from SKP will share analysis on Direct and Indirect tax proposals and discuss the key announcements of the Budget 2019.
Appended are the details of the event:
Date: Friday, 5th July 2019
Time: 5:00 pm to 7:00 pm
Venue: SKP Business Consulting LLP, 6th Floor, Urmi Axis, Dr. E. Moses Road, Famous Studio Lane, Mahalaxmi. Mumbai 400 011.
KINDLY NOTE: to avoid direct competition, we will have to regret participation from consulting firms.
Request you to RSVP with the following details to: tracy.fernandes(@)ifcci.org.in ; communication-mumbai(@)ifcci.org.in (kindly note RSVP for this event is compulsory)
Name:
Designation:
Company Name:
Contact Number:
Limited seats available, therefore we urge you to register ASAP with complete registration details.
We look forward to meeting you on the 5th of July!