The Indo-French Chamber of Commerce & Industry (Hyderabad) is organizing a session on Market Entry to France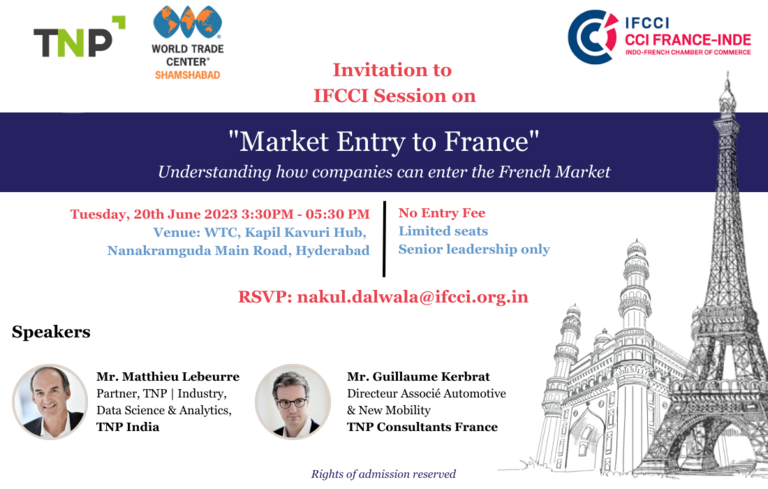 The Indo-French Chamber of Commerce & Industry (IFCCI)
is bringing together experts to conduct a session on

Market Entry to France:
This session aims to provide valuable insights and guidance to Indian companies interested in exploring the French market. France, being one of the world's largest economies, offers immense potential and diverse opportunities for businesses across various sectors.
This brief session will equip Indian companies of all sizes with essential knowledge, strategies, and considerations necessary for a successful entry to the French market.
This event will cover:
Why France is an attractive market for various Indian companies.

How niche Indian companies can perform better in the French market.

How Indian companies can benefit from French Technology and Innovation (public transport, aero & rail, heavy industry, health etc).

How Indian companies can utilise French infrastructure and consumer access to their benefit.
Speakers:
Mr. Matthieu Lebeurre, Partner, TNP | Industry, Data Science & Analytics, TNP India
Mr. Guillaume Kerbrat, Directeur Associé Automotive & New Mobility, TNP Consultants France
on

Tuesday, 20th June 2023

3:30PM to 5:30PM
Venue:
World Trade Centre (WTC), Kapil Kavuri Hub,
Nanakramguda Main Road, Hyderabad.
No Entry Fee | Limited seating | Senior leadership only
RSVP: nakul.dalwala(@)ifcci.org.in