IFCCI in association with Nexdigm is organizing a Roundtable Meeting on Impact of the Finance Bill 2023 on French Companies in India, on 10th May 2023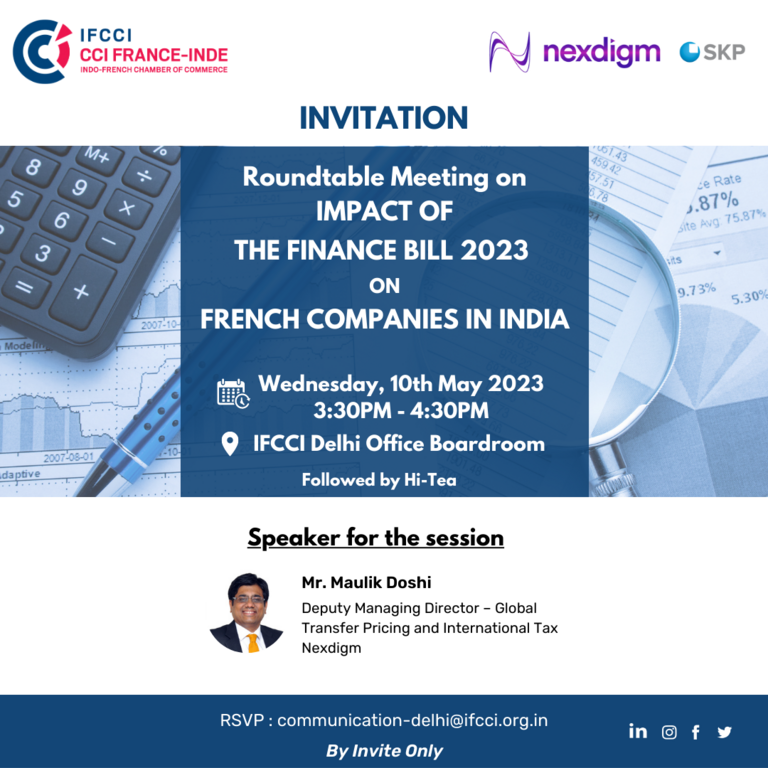 Indo-French Chamber of Commerce & Industry (IFCCI)
in association with Nexdigm (SKP)

is organizing a
Roundtable Meeting
on
Impact of the Finance Bill 2023 on French Companies in India

as per the following schedule
Day & Date:Wednesday, 10th May 2023
Time: 3:30 PM to 5:00 PM
Venue: IFCCI Delhi Office Boardroom
(followed by High-tea)

Context:
The Finance Bill was presented by the Hon'ble Finance Minister, Nirmala Sitharaman on 1st February 2023. While moving the Bill for approval by the Lok Sabha on 24th March 2023, the Minister introduced the following amendments to the Finance Bill 2023, that would be effective from 1st April 2023, however, the Bill is still awaiting assent from the President. Increase in the Tax Rate on Royalties/Fees for Technical Services Amendments in the unit set-up in International Financial Service Center (IFSC), which includes Interest on Borrowings, Dividend paid to Non-residents, Non-applicability of Surcharge and Cess, Tax Exemption to Non-Residents maintaining an account with an Offshore Banking Unit (OBU) in IFSC, Aircraft Leasing, Tonnage Tax, Tax exemption for Non-residents on the distribution of income from Offshore Derivative Instruments (ODI), Relocation of an Offshore Fund to an IFSC, and Extension of 100% Tax Holiday to OBUs Scope of taxation of Capital Gains in the case of Market-linked Debentures expanded to Specified Mutual Funds Tax Avoidance through distribution by Business Trusts to its Unit Holders Tax Deduction at Source (TDS)/Tax Collection at Source (TCS).
This Session will focus on the key Amendments to the Finance Bill 2023 and its impact on the International Business in India.


By Invite Only
Prior Registration is mandatory
This is a closed-door Session, open to only CFOs, Finance Heads and Taxation Heads of French companies in India.

Register at communication-delhi(@)ifcci.org.in

Looking forward to your participation!