IFCCI is organizing a Webinar on Enhancing Manufacturing Capacity Utilization through Cloud-based technology platform Friday, 18th February 2022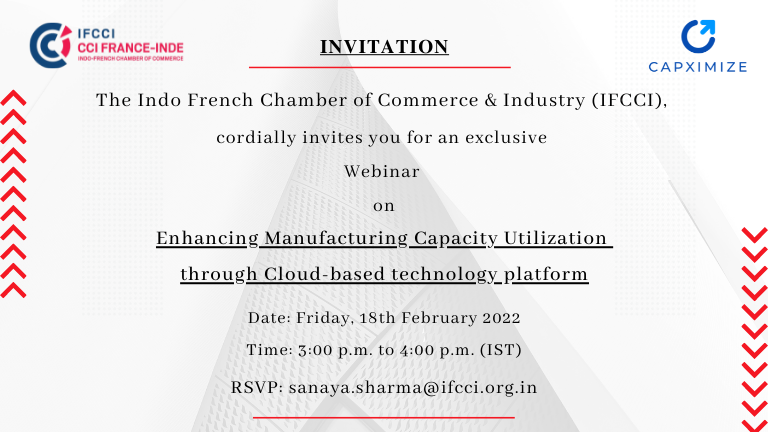 The Indo-French Chamber of Commerce and Industry is organizing a
Webinar on Enhancing Manufacturing Capacity Utilization through Cloud-based technology platform
on
Day & Date: Friday, 18th February 2022
Time: 3:00 PM - 4:00 PM
Overview:
An optimal utilisation of manufacturing capacity is a prerequisite to achieve higher rate of growth in any economy and it also helps to augment employment and ROI through best use of the scarce capital resources.
The objective of the Session is to deliberate on the perspectives of making surplus manufacturing capacities accessible to companies within India and across the globe. It will elaborate on how technology helps manufacturing companies as an enabler to business growth.
Program Outline:
3:00 pm - 3:05 pm: Welcome Remarks by IFCCI
3:05 pm - 3:10 pm: Introductory Remarks and Presentation by Mr. Avinash Bapat, Co-Founder, Capximize
3:10 pm - 3:50 pm: Panel Discussion on Enhancing Manufacturing Capacity Utilization through Cloud-based technology platform
3:50 pm - 4:00 pm: Q&A Session & Vote of Thanks
The Webinar link will be shared upon receiving confirmation.
Looking forward to receiving your confirmation!