IFCCI and TNP India are pleased to invite you to an exceptional event : "Les Histoires de Demain/ Stories of Tomorrow, 2022"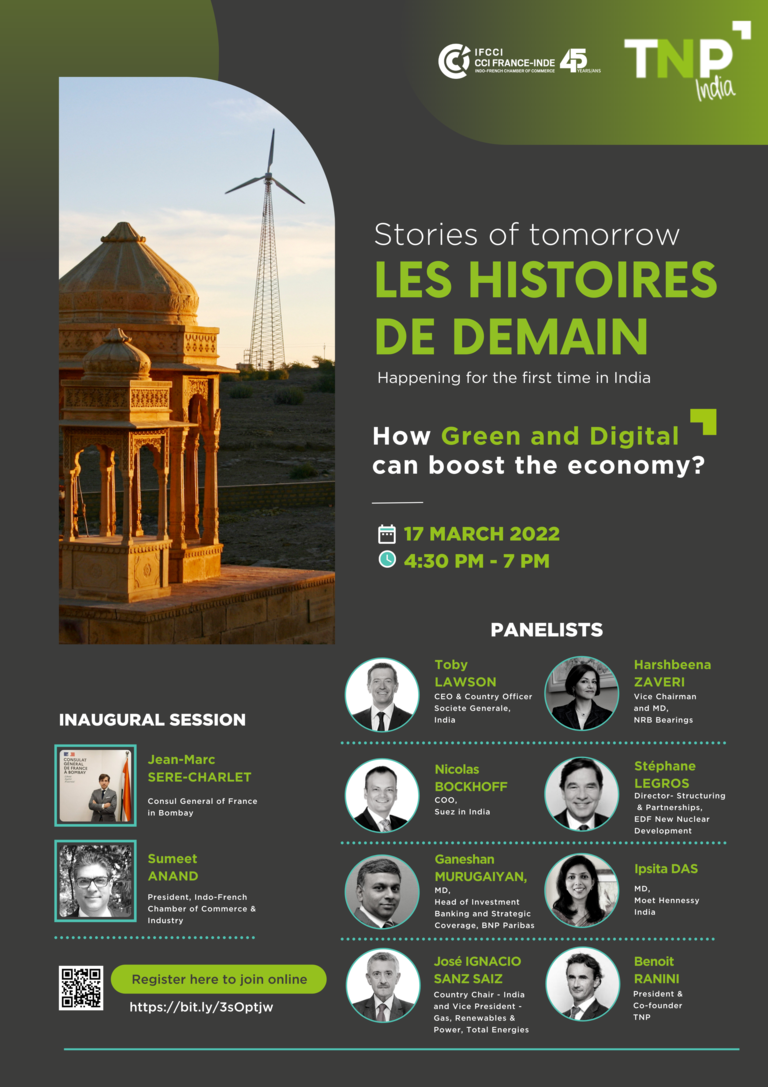 Indo-French Chamber of Commerce and Industry (IFCCI) and TNP India are pleased to invite you to an exceptional event : "Les Histoires de Demain/ Stories of Tomorrow, 2022"
About "Les Histoires de Demain/ Stories of Tomorrow, 2022"
TNP launched the 'Stories of Tomorrow (HDD)' series in 2015, as a unique platform to engage major thought leaders and decision-makers from CAC40 and SBF120 companies on key themes and global trends that shape the future of business. Designed to facilitate knowledge-sharing and networking, HDD champions TNP's hybrid DNA -the dynamic merger between business know-how and technological innovations.
A brief profile of TNP
TNP is a French, hybrid, and independent consulting firm specializing in operational, regulatory, and digital business transformations. Present in France, Luxembourg, Monaco, Italy, Morocco, Germany, Switzerland, and India, TNP intervenes on various dimensions - operational strategy, information system, business, and human capital transformations, and works in the sectors of banking, insurance, health, transport and logistics, industry, energy, and retail.
Today, TNP relies on 600 employees for a turnover of 70 million euros worldwide (2020 figures). As a performance accelerator for many major CAC40 or SBF120 companies, the firm manages 25% of its mission internationally.
Created in 2017 with the desire to build a technology centre to support our global activities, TNP India is the largest subsidiary of TNP Group outside of France. TNP India supports large international companies in India, Asia, and Europe in complex digital and business transformation programs.
Major clients: Action Logement, Airbus, ArcelorMittal, Attijariwafa Bank, BNP Paribas, BPCE, Chaabi Bank, Covea, CMA CGM, CNP Assurances, Crédit Agricole, EDF, Groupama, Guerbet, Kering, La Banque Postale, La Poste, L' Oréal, LVMH, MSC, PSA, RATP, Renault, Societe Generale, SNCF.
Looking forward to your participation!