IFCCI in association with Excelia – French multi-disciplinary school is hosting an 'Exclusive Networking Cocktail'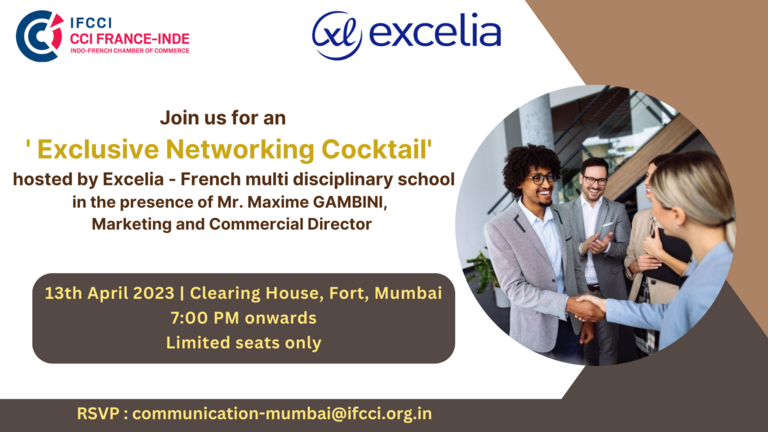 This eevnt will be held in the presence of Mr. Maxime GAMBINI, Marketing and Commercial Director, Excelia on
Thursday, 13th April 2023, 1900 hrs onwards
at
The Clearing House, 13-15, Calicut Rd, Ballard Estate, Fort, Mumbai
About the School:
Excelia is a French private university-level institution of higher education. Excelia Group holds a triple accreditation and is accredited by The French Ministry of Education. Excelia Business School is EFMD-EPAS and AACSB accredited and is a bearer of the triple crown, thus joining the league of top 10 business schools in France. Excelia Tourism School holds the TedQual accreditation, delivered by the World Tourism Organisation (UNWTO), for all its programs in Tourism Management. The school is the first and only French institution of higher education to obtain TedQual accreditation for both Bachelor and MBA programs.
Kindly Note: Prior registration is compulsory | Limited seats available
Restricted to CXO profiles only
To participate, request you to kindly RSVP your details to communication-mumbai(@)ifcci.org.in
Name:
Designation:
Company Name:
Contact Number:
Request you to kindly block your diary or alternatively depute a senior colleague to be available for the event.
Looking forward to your participation!